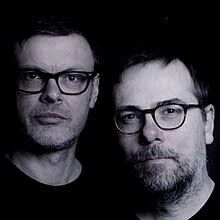 Plone (a name taken from a type of computer software) are an electronic music band from Birmingham. The group formed in late 1994 when Mark Cancellara and Mike Johnston started to buy old analogue keyboards and fx and began to rehearse making huge soundscapes. Johnston was living with Billy Bainbridge (who was in another band at the time, Supernal, also containing members of electro band sol dat) who bought himself a keyboard and joined the band.
The band started gigging as support to local bands such as Pram and Broadcast. In 1997, the band was approached by Wurlitzer Jukebox who released the single, "Press a Key". On the strength of this the band was signed to Warp and, in September 1998, released the single "plock". This was tipped as one of the singles of the year by NME, Melody Maker and Dazed & Confused.
An album For Beginner Piano was released in September 1999 to widespread critical acclaim....(Read more). AllMusic described them as a "Mischievous yet spooky English electronic act whose playful aesthetic defined them in the '90s and beyond." Johnston went solo and recorded as Mike In Mono.
Links to Peel
The band scored two entries in successive Festive Fifties, recorded two sessions for Peel's show (the first of which appears in Peel Sessions: The Best 125), and feature in three live performances. Lack of new material (until Puzzlewood in 2020) resulted in no plays by JP for the last five years of the show's life.
Festive Fifty Entries
Live
Marbles
unknown
Be Rude To Your School
Top And Low Rent
Press A Key
Ry30
Another One Of Them
Busy Working
Bibi Plone
Plaything
Top And Low Rent
Sessions
Two sessions, no known commercial release.
1. Recorded: 1998-04-28. First broadcast: 02 June 1998. Repeated: 22 October 1998
Electronic Beauty Parlour / Plock / Sunday Laid Moo
2. Recorded: 1999-09-01. First broadcast: 06 October 1999. No repeats. All titles were given on the day of this broadcast, according to Peel.
Another One Of Them / Marbles / Busy Working / Dry Pen
Other Shows Played
1997
1998
1999
External Links
Community content is available under
CC-BY-SA
unless otherwise noted.