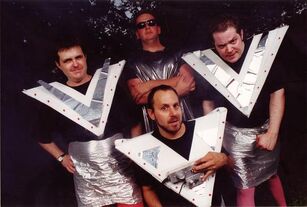 The Pocket Fishrmen (also spelt as Pocket FishRmen) was an American art punk band formed in 1986 emerging from the North Loop art-punk scene in Austin, Texas. The group consisted of Vocalist/guitarist Brant Bingamon, guitarist Cris Burns, bassist Ron Williams, and drummer Marcus Trejo. The band released the 7-inch "Amy Carter" in 1988. Subsequent singles included 1989's "The Leader is Burning" (Noiseville) and 1990's "Sodom and Gomorrah". Trejo left the FishRmen in 1991 and was replaced by frequently nude drummer Snoopy Melvin. By the time their debut LP, Future Gods of Rock arrived in 1993, Williams had been replaced by Jason Craig. Ex-Offenders drummer Pat Doyle replaced Melvin shortly thereafter. The band self-released Heroes of Modern Perversion in 1997 and Simian Dreams (Enhanced) in 1998, the latter of which featured the track "One Blowjob, One Handjob, One Vagina Job". After 14 years in the scene, the Pocket FishRmen played their "farewell" show on May 13, 2000 at the Red Eyed Fly.
Links To Peel
Peel heard the group through Noiseville records who also had one of Peel's favourite bands Unholy Swill on their label. The Pocket Fishrmen's track "The Leader is Burning" was a big favourite of Peel during 1989 and would often be played on his shows. The song ultimately was chosen as Peel's Peelenium for 1989 and the single was chosen for John Peel's Record Box.
Peelenium
Other Shows Played
1989
1990
1999
2004
External Links
Community content is available under
CC-BY-SA
unless otherwise noted.