The Pogues are a Celtic folk punk band from London, formed in 1982 and fronted by Shane MacGowan. The band reached international prominence in the 1980s and early 1990s. MacGowan left the band in 1991 due to drinking problems but the band continued first with Joe Strummer and then with Spider Stacy on vocals before breaking up in 1996. The band reformed in late 2001, and has been playing regularly ever since, across the UK and Ireland and on the US East Coast. Their politically tinged music was informed by MacGowan and Stacy's punk backgrounds, yet used traditional Irish instruments such as the tin whistle, banjo, cittern, mandolin and accordion. The Pogues were founded in Kings Cross, a district of Central London, in 1982 as Pogue Mahone—pogue mahone being the anglicisation of the Irish póg mo thóin, meaning "kiss my arse".
Links To Peel
In the book, Kiss My Arse: The Story of the Pogues, Stan Brennan, who worked for the Pogues as their representative described Peel's connection with their first single Dark Streets Of London that was released in 1984:
"It started selling quite well. John Peel picked it up. He liked the fact that it was so minimally designed. He'd got one of the white labels. He played it on the radio." [1]
Brennan later mentioned on the book that the BBC quietly refused to play the Pogues records because the band's original name Pogue Mahone in the Irish language meant "kiss my arse". The only exception Brennan mentioned was Peel's show, who played the record despite the BBC's reluctance.
The BBC's reluctance forced the band to drop Mahone from their name renaming themselves as the Pogues. When the band were still known as 'Pogue Mahone', their debut Peel session contained a song named 'The Boys From County Hell' that initally didn't made it to air due to the amount of bad language. The track was eventually broadcast along with the rest of the session on 03 December 1985.
Peel continued championing the band through out the 80's, but by the 90's, he rarely played any of their material.
In the late 70s, JP had played tracks by The Nips, Shane MacGowan's band before the Pogues.
Festive Fifty Entries
Sessions
Both sessions are available on Just Look Them Straight In The Eye And Say... Poguemahone!! - The Pogues Box Set (2008, 5 x CD, Rhino Records)
1. Recorded: 1984-04-10. Broadcast: 17 April 1984. Repeated: 16 May 1984, 01 January 1985, 03 December 1985
Streams Of Whiskey / Greenland Whale Fisheries / The Boys From The County Hell (first verified broadcast 03 December 1985) / The Auld Triangle
2. Recorded: 1984-12-04. Broadcast: 12 December 1984. Repeated: 08 January 1985, 28 January 1985
Whiskey You're The Devil / The Navigator / Sally Mclannan / Danny Boy
Other Shows Played
1984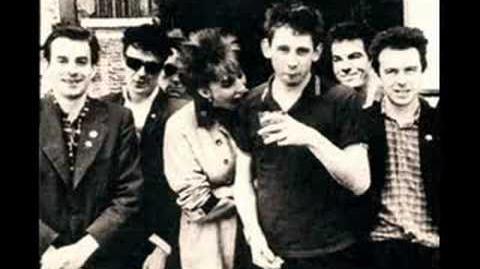 1985
1986
1987
1988
1991
Nips
External Links
Community content is available under
CC-BY-SA
unless otherwise noted.