Background
Line Up
Mark Stewart (lyrics, vocals)
Jon Waddington (guitar)
Gareth Sager (guitar)
Simon Underwood (bass)
Bruce Smith (drums, percussion)

"The Pop Group were not the easiest band of the early post-punk era to listen to, but those who made the effort were in for an interesting melange of primitive rhythms and avant-garde guitar racket." allmusic.com)
The Pop Group are a post-punk band from Bristol, UK. Their debut single, "She Is Beyond Good And Evil" was released on Radar Records in March 1979. Their debut album, Y, was produced by Dennis Bovell and found critical acclaim but low sales figures. Although it did not chart, the album's success was sufficient to convince Rough Trade to sign the band, but not before more line-up changes, with Dan Catsis replacing Underwood on bass.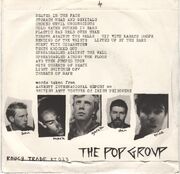 The band's career with
Rough Trade
commenced with what is possibly their best-known single, "We Are All Prostitutes", which featuring a guest appearance by free improviser Tristan Honsinger on cello. This was followed by the release of their second album,
For How Much Longer Do We Tolerate Mass Murder?
in 1980, which included a contribution from US proto-rappers The Last Poets.
Shortly afterwards, The Pop Group released a split single, "Where There's a Will...", with the Slits, a band with whom they now shared a drummer and managers (Christine Robertson and Dick O'Dell), as well as a growing interest in exploring musical genres such as dub and funk rhythms.

The band split in 1981 after legal wranglings and internal disagreements. Members of the group went on to join bands including
Pigbag
, Maximum Joy, Head and
Rip Rig & Panic
, the latter notable for the involvement of
Neneh Cherry
. Stewart later collaborated with On-U Sound, issuing records firstly as Mark Stewart and Maffia, then as a solo artist.
The band were patently favoured by Peel, as witness the numerous plays he gave to their early releases and his comment on 29 August 1979 when hearing that they were to support Patti Smith on her upcoming tour, "she knows a good band when she hears one." However, Bill Aitken gave a less than flattering description of the circumstances surrounding the recording of their only session ([1]).
Festive Fifty Entries
Sessions
One session. Recorded 1978-07-03. First broadcast 10 August 1978, repeated 29 August 1978 and 07 December 1978. No known commercial release.
1. Words Disobey Me / Kiss The Book / We Are Time (Mooo)
Other Shows Played
1979
(JP: 'I can't help but wonder that the observations about consumer fascism... I mean, does this mean that the Pop Group don't want us to buy their record?')

1980
1981
1982
1983
Links
Community content is available under
CC-BY-SA
unless otherwise noted.