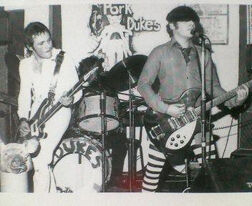 Pork Dukes are an English punk rock band, formed 1976 during the first wave of British punk in London, England. The band was originally composed of twin brothers and former Gnidrolog members Colin Goldring (vocals / guitar) and Stewart Goldring (guitar / vocals) using the pseudonyms Vilos and Horrendus Styles, respectively – alongside Scabs (aka Rick Kemp of Steeleye Span) (bass guitar), Germun LePig (aka Nigel Pegrum, also of Steeleye Span) (drums) (later replaced by Bonk aka. Rocky Rhythm) and Mack E. Valley (keyboards. He was later replaced by Guardian Angel prior partway through the recording sessions for the second album.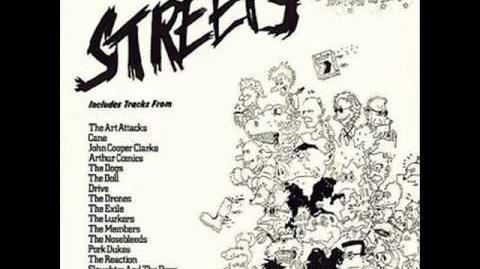 Combining a Buzzcocks-style pop punk sound with bawdy subject matter, gross-out toilet humour and profanity in their songs, the band released their debut single "Bend and Flush" b/w "Throbbing Gristle" in 1977 on Wood Records, a subsidiary of Caroline Records UK created specifically for the band.
Due to the lyrical content of their recordings, the band struggled for airplay and split up in 1979 before reforming in 2001.
Links To Peel
The late, legendary UK DJ John Peel, on his Radio One show, remarked that "the Pork Dukes would have hits with their infuriating catchy singles, were they not so manifestly unbroadcastable!" [1] But even a nod of approval from one of Peel's session artists, Elton John didn't help: the curiosity surrounding the Pork Dukes afforded them cult status but after releasing two albums the band split in 1979.
Shows Played
None according to current available playlists
External Links