Portrait Of The Artist As A Consumer was a feature on the NME in the 80's, featuring celebrities who would list their favorite books, albums, movies and favorite other artists. Celebrities such as Nick Cave and Morrissey also took part in this feature.
Links to Peel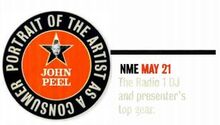 Peel was featured on Portrait Of The Artist As A Consumer, published in the NME on 21st May 1983 (later republished in the 2017 History Of Rock 1983 magazine) where he was asked his favourite books, music, films etc.
Anthony Powell: A Dance To The Music Of Time
A gloomy book my mother has about medieval medicine
Anything by J.B. Morton (Beachcomber)
Histories rather than fictions
The Pepys Diaries
Boy's Own annuals from the '50s
RECORDS
Changes hourly Mainly...
FAVE PLACES
ARTISTS
FILMS
FAVE QUOTES
WC Fields: "It ain't a fit night out for man or beast"
Henry Adams: "A friend in power is a friend lost"
FAVE DRINK
LEAST FAVE DRINK
ACTORS
ACTRESSES
FAVE MONARCH
FAVE TEAMS
Community content is available under
CC-BY-SA
unless otherwise noted.