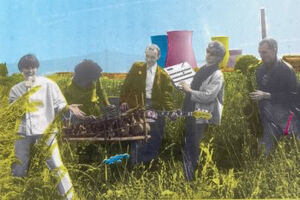 PragVEC were a post-punk band from London, formed in 1978. The band name was a contraction of the two words "pragmatism" and "vector", chosen at random. The band were formed in February 1978 by ex-Derelicts members Susan Gogan (vocals, synthesizer) and John Studholme guitar, synthesizer, along with David Boyd (bass) and Nicholas Cash (drums). The band group in 198, with Cash joining Fad Gadget and the Lines. Gogan joined the Atoms. Jim Thirlwell, who had contributed Wasp synth to No-Cowboys, went on to form Foetus.
Links To Peel
During their short existence, the band recorded a total of three sessions for the John Peel programme after they sent him a demo tape. The group were not signed to a record label at the time of recording their first session and Peel asked promoters on his show to help the group. The band were present in the studio on the night of the Peel show broadcast of 19 September 1978.
Sessions
1. Recorded: 1978-08-23. First broadcast: 29 August 1978. Repeated: 20 September 1979, 19 October 1978.
Nervous / Bits / Ruby / Stay
2. Recorded: 1979-01-29. First broadcast: 07 February 1979. Repeated: 08 March 1979.
Toast / Expert / The Follower / Hijack
3. Record date unknown (private tape). First broadcast: 01 August 1979. Repeated: 04 September 1979.
By The Sea / Rural Erotic / Third Person / Laugh
Other Shows Played
1978
1979
1980
External Links
Community content is available under
CC-BY-SA
unless otherwise noted.