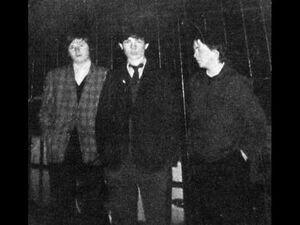 The Prats were an Edinburgh-based punk rock group, active from 1977 to 1981. More recently, their track "General Davis" was featured in the opening credits of Jonathan Demme's 2004 film, The Manchurian Candidate. The group was founded in 1977 at St. Augustine's Roman Catholic Comprehensive by Paul McLaughlin, David Maguire, Greg Maguire, and Tom Robinson, whose ages at the time ranged from 12 to 15. While their instruments were basic - including a cardboard drum kit - they were able to quickly produce a demo tape which they sent to a local indie label Fast Product, who also produced the Human League. Inspired by The Slits and Mekons, the Prats debuted with three tracks on the Fast EP Earcom 1. A number of line-up changes saw Elspeth McLeod joining to provide additional guitar (including on the single "General Davis") and Jeff Maguire taking over bass duties from Tom Robinson.
Links to Peel
The late John Peel was a fan and long time supporter of The Prats. In 1979 the band recorded a Peel session, which the broadcaster played with considerable enthusiasm. "... this session has put me in a good mood for the rest of the weekend... it's terrific...a great session!" as he said at the time. The legendary broadcaster also offered his fee from a DJing appearance in Edinburgh to finance a single release.
Sessions
1. Recorded: unknown. Broadcast: 13 September 1979
Jesus Had A P.A. / Prats 2 / Strange Interlude / A Day In The Life Of Me / Pozy Pop Groups / Nothing / You're Nobody / Prats 1
Other Shows Played
1979
24 May 1979: Bored (Various LP - Earcom 1) Fast Product
04 June 1979: Inverness (Compilation LP - Earcom 1) Fast Product
11 June 1979: 'Bored (Compilation LP - Earcom)' (Fast)
1980
External Links
Community content is available under
CC-BY-SA
unless otherwise noted.