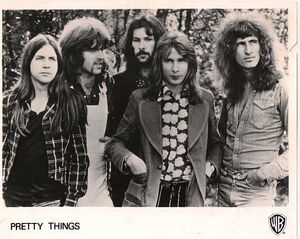 The Pretty Things were an English rock band, formed in September 1963 in Sidcup, Kent. They took their name from Willie Dixon's 1955 song "Pretty Thing". A pure rhythm and blues band in their early years, with several singles charting in the United Kingdom, they later embraced other genres such as psychedelic rock in the late 1960s (with 1968 S.F. Sorrow being one of the first rock operas), hard rock in the early 1970s and new wave in the early 1980s. Despite this, they never managed to recapture the same level of commercial success of their very first releases.
The band's early material consisted of hard-edged blues-rock influenced by Bo Diddley and Jimmy Reed. Their first three singles appeared in the UK Singles Chart in 1964 and 1965: "Rosalyn" No. 41, "Don't Bring Me Down" No. 10, and the self-penned "Honey I Need" at No. 13. They never had a hit in the United States, but had considerable success in their native Britain and in Australia, New Zealand, Germany and the Netherlands. Their appearance and behaviour was provocative, with singer Phil May claiming to have the longest hair in the UK and drummer Vince Prince often causing chaos wherever he went.
Singer Phil May died on 15 May 2020, in hospital in King's Lynn, from complications following hip surgery after a cycling accident. He is survived by his partner and two children.
Links to Peel
Peel was a fan of the Pretty Things, even having them in his KMEN British Pop Top Ten charts in 1966, whilst working for that station in America. He also recommended them as one of his favourites in an article called ABC Of Beauty in the Disc & Music Echo music newspaper in 1968.
The group did several sessions for Peel's show and in an interview with singer Phil May for Let It Rock, published in January 1973, he acknowledged JP for liking his band's music:
"The reviews we had in the underground press in America and in some degree England, from people like Peel were amazing."
In 1975, Peel nominated the band's single, Is It Only Love, as one of his favourite 1974 Top Fifty One Singles. He also mentioned on his 10 November 1987 show that the group's Rosalyn track is one of his favourite 60's tunes. Even after the band declined in popularity, Peel often played some of the group's older material on his shows.
Sessions
1. Recorded: 1967-11-27. Broadcast: 03 December 1967. Repeated: 07 January 1968
Turn My Head / Defecting Grey / Talking About The Good Times / Walking Through My Dreams
2. Recorded: 1968-10-21. Broadcast: 17 November 1968. Repeated: 29 December 1968
SF Sorrow Is Born / She Says Good Morning / Balloon Burning / Old Man Going
3. Recorded: 1969-05-20. Broadcast: 25 May 1969. Repeated: 06 July 1969
Send You With Loving / Alexander / The Loneliest Person / No More Spring / Marilyn
4. Recorded: 1971-04-27. Broadcast: 15 May 1971. Repeated: 14 August 1971
Stone Hearted Mama / Circus Mind / Slow Beginning / Summertime (broadcast on 14th August 1971)
5. Recorded: 1972-07-17. Broadcast: 04 August 1972. Repeated: 01 September 1972
Love Is Good / Spider Woman / Don't Bring Me Down / Onion Soup
6. Recorded: 1972-07-25. Broadcast: 15 August 1972
Rosalyn / Onion Soup / All Night Sailor / Love Is Good (not broadcast)
7. Recorded: 1973-01-29. Broadcast: 15 February 1973. Repeated: 15 March 1973
Religion's Dead / Love Is Good / Defecting Grey / Old Man Going / Havana Bound
8. Recorded: 1974-12-17. Broadcast: 06 January 1975. Repeated: 24 March 1975
Bridge Of God / Silk Torpedo / Come Home Momma / Dream /
9. Recorded: 1975-07-17. Broadcast: 24 July 1975. Repeated: 01 October 1975
Belfast Cowboy / Brise In The Sky / Big City / Dream
Live
Other Shows Played
1968
1970
1972
1984
1998
2004
See Also
External Links
Community content is available under
CC-BY-SA
unless otherwise noted.