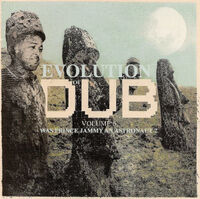 Lloyd James (born 26 October 1947, in Montego Bay, Jamaica), who is better known as Prince Jammy or King Jammy, is a dub mixer and record producer. He began his musical career as a dub master at King Tubby's recording studio. His dubs were known for their clear sound and use of effects.
After leaving Jamaica to work in Canada for a few years in the early 1970s, he returned to Kingston in 1976 and set up his own studio at his in-laws' home in Waterhouse, and released a couple of Yabby You productions. When Phillip Smart left King Tubby's team to work in New York City, Jammy replaced him, getting to work with Bunny Lee and Yabby You.
In the late 1970s he began to release his own productions, including the debut album from Black Uhuru in 1977. In the 1980s, he became one of the most influential producers of dancehall music. His biggest hit was 1985's "Under Me Sleng teng" by Wayne Smith, with an entirely-digital rhythm hook. Many credit this song as being the first "digital rhythm" in reggae, leading to the modern dancehall era.
(Read more at Wikipedia.)
Links to Peel
As a protege of King Tubby, who was a big favourite of Peel, Prince Jammy was heard down the decades on the DJ's shows from the late 1970s, especially in the form of dubs from the early part of his career, including reissues of work alongside the pioneer engineer and remixer by UK label Blood & Fire from the mid-1990s.
While Peel didn't always appear enthusiastic about the shift to digital rhythms and dancehall in Jamaica under Prince Jammy and others from the mid-1980s, the producer's work with popular artists such as Admiral Tibet and Frankie Paul continued to be played on the DJ's shows, including numerous releases on Jammy's own eponymous record label.[1]
Festive Fifty Entries
Sessions
Other Shows Played
(The following list, compiled from the database of this site, focuses on radio plays by John Peel of releases credited or co-credited to Prince/King Jammy. For his other productions, please check the relevant artist page. Please add further information if known.)
1979
1981
1982
1988
1996
1999
21 September 1999: The Champion Version (LP – X-Ray Music: A Blood & Fire Dub Directory) Blood & Fire
2000
2001
2003
See Also
External Links
Community content is available under
CC-BY-SA
unless otherwise noted.