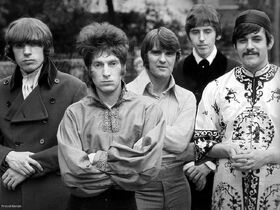 Procol Harum are an English rock band formed in 1967. They contributed to the development of symphonic rock, and by extension, progressive rock. Their best-known recording is their 1967 hit single A Whiter Shade Of Pale, which is considered a classic of popular music and is one of the few singles to have sold over 10 million copies. Although noted for its baroque and classical influences, Procol Harum's music also embraces the blues, R&B, and soul....(Read more)
Matthew Fisher (who had played the Hammond organ on A Whiter Shade Of Pale) left the band in mid-1969 after producing the LP A Salty Dog and in 2009 successfully sued for a share of the songwriting royalties on A Whiter Shade Of Pale. After two less than successful albums, Home (1970) and Broken Barricades (1971), Robin Trower, whose frustration was becoming increasingly evident, left to form firstly Jude and then his own band.
Links to Peel
The band arose from the ashes of the Paramounts: Brooker, Copping, Wilson and Trower were all members, and Peel played Poison Ivy long after the fact in 1978. They were named after a Burmese cat belonging to their manager's friend: it is also cod Latin for 'beyond these things.' Brooker co-opted lyricist Keith Reid (who, according to Joe Boyd's book White Bicycles (p.150), had tried to persuade Boyd to sign him for Elektra Records in 1966, "on the basis of a few stanzas of doggerel") into the band, and they had a precocious success with a mesmeric song that virtually soundtracked the Summer Of Love.
"A Whiter Shade Of Pale" owed much of its success to heavy exposure on Radio London, while Peel was working on the station. The Radio London website describes how enthusiastic listener response to advance plays of the single in April 1967 persuaded the record company to issue it in the following month. It quickly reached the top of the Radio London Fab 40 and the national charts, and remains one of the records closely associated with the mood of the summer of 1967. Yet Peel later said he preferred the follow-up single, Homburg, released in autumn 1967 after the pirate stations had closed down and only a minor hit. Nevertheless Procol Harum were booked for a BBC session which went out on the second Top Gear (although not one presented by JP).
Three more Peel sessions followed in 1968 and 1969, followed by a gap until 1974, when Procol Harum recorded their final session for Top Gear. Although these sessions gave the band vital public exposure, their attitude towards them was essentially prosaic: Brooker said, "You did the BBC shows as a way of getting your new album on the radio," and to Mick Grabham (guitar) they were "just another job." [1]
At first Procol Harum found it hard to follow their initial success, but gradually they gained a reputation, especially in the USA, as an album band, touring extensively and having a surprise success in the early 1970s after collaborating with Canada's Edmonton Symphony Orchestra on a live album. The "symphonic rock" aspect of their style never seemed to be specially appealing to Peel, but he continued to support them, with sessions and album track plays until the mid-1970s (in 1974 he made Nothing But The Truth his single of the week [2]). At the advent of punk, the band seemed to be part of the old guard that the new movement was designed to sweep away: Bob Harris related how members of their road crew protected him from Sid Vicious and followers of the Sex Pistols in the Speakeasy Club after visiting it for "a quiet drink". [3]
Later in his career, Peel revisited their early material.
Festive Fifty Entries
Sessions
Five sessions. #1 (all except for last track) available on Procol Harum (Esoteric Recordings). #2 and #3 on Shine On Brightly (Esoteric Recordings). 'Juicy John Pink' from #4 available on A Salty Dog (Esoteric Recordings).
1. Recorded: 1967-09-27. First broadcast: 08 October 1967. Repeated: 29 October 1967
She Wandered Through The Garden Fence / Good Captain Clack / Homburg / Kaleidoscope / Repent Walpurgess
2. Recorded: 1968-02-14. First broadcast: 25 February 1968. Repeated: 24 March 1968
Quite Rightly So / Shine On Brightly / Rambling On / Skip Softly (My Moonbeams)
3. Recorded: 1968-08-19. First broadcast: 08 September 1968. Repeated: 06 October 1968
Wish Us Well / Skip Softly (My Moonbeams) / Long Gone Geek / In Held 'Twas In I (Look To Your Soul/Grand Finale) last track debut on repeat
4. Recorded: 1969-05-27. First broadcast: 01 June 1969. Repeated: 13 July 1969
A Salty Dog / Juicy John Pink / Devil Came From Kansas / Too Much Between Us
5. Recorded: 1974-03-12. First broadcast: 19 March 1974. Repeated: 28 May 1974
Butterfly Boys / The Idol / Beyond The Pale / Nothing But The Truth
Live
Still There'll Be More
Wish Me Well
About To Die
A Christmas Camel
Your Own Choice
The Devil Came From Kansas
Juicy John Pink
Well, I …
Nothing That I Didn't Know
A Salty Dog
Whisky Train
Whaling Stories
Other Shows Played
See Also
External Links
Community content is available under
CC-BY-SA
unless otherwise noted.