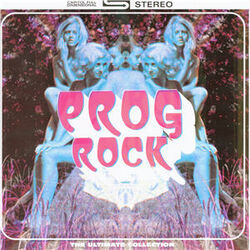 Progressive Rock
, also known as prog rock or prog, is a rock music subgenre that originated in the United Kingdom, with further developments in Germany, Italy, and France, throughout the mid-to-late 1960s and 1970s. It developed from psychedelic rock and originated, similarly to art rock, as an attempt to give greater artistic weight and credibility to rock music. Bands abandoned the short pop single in favor of instrumentation and compositional techniques more frequently associated with
jazz
or
classical
music in an effort to give rock music the same level of musical sophistication and critical respect (.....) Music critics, who often labeled the concepts as "pretentious" and the sounds as "pompous" and "overblown," tended to be hostile toward the genre or to completely ignore it.
Progressive rock saw a high level of popularity throughout the 1970s, especially in the middle of the decade. Bands such as Jethro Tull, The Moody Blues, Pink Floyd, Yes, King Crimson, Genesis, and Emerson, Lake & Palmer (ELP) were the genre's most influential groups and were among the most popular acts of the era....(read more at Wikipedia)
Links to Peel
The adjective "progressive" was applied to other popular music genres long before the advent of progressive rock. Peel had been listening to music and buying records since the early 1950s and was no doubt familiar with its usage to describe various kinds of post-World War Two jazz. The popular bandleader Stan Kenton even labelled his music "progressive jazz", but, as with the response to prog rock in the 1970s, critics accused his band of pretentiousness and bombast. Peel's preference was for more traditional forms of jazz.
By the time Peel returned to Britain from America in 1967, London music papers such as Melody Maker and Record Mirror were writing about "progressive pop", by which they meant the music of the Beatles and their contemporaries, such as the Beach Boys (whose 1966 LP Pet Sounds was described in EMI Records' ads in the British pop press as "The most progressive pop album ever!") , Yardbirds, Who and Byrds, all of whom were seeking to make original and inventive music within a pop framework. The term was also used to describe a new, younger generation of record producers, such as Joe Boyd, Jimmy Miller and Denny Cordell, and records by groups such as the Mamas and Papas, Fifth Dimension and The Association, which in later years were described variously as "baroque pop", "sunshine pop" and "folk-rock".
Peel played these artists on Radio London and on his early BBC shows, but in 1967-68 "progressive" was used as an umbrella term covering the new pop genres mentioned above, as well as the more experimental folk artists and the blues performers of the time - in short, everything that wasn't commercial, chart-oriented pop. In the British pop press, Peel's Top Gear was referred to as a "progressive" music show and in an interview with Disc & Music Echo he even used the term himself; because of Radio 1's music policy, he claimed, "the progressive British pop group is dying", whereas "America is bounding forward"[1]
The most successful of the new styles, however, was a loud, sometimes improvised music played by groups such as Cream, the Jimi Hendrix Experience and West Coast groups such as the Doors and Jefferson Airplane. Peel featured this music heavily on his programmes and gradually, following the example of American magazines such as Rolling Stone, it became known as "rock" - "underground rock", "heavy rock" and, finally "progressive rock"[1]. It was no longer played by "groups", but by "bands". In this period, many well-known prog bands such as The Nice, King Crimson and Jethro Tull did sessions for Top Gear and were given plenty of coverage in British pop music papers, especially Sounds and Melody Maker.
Peel was happy to encourage this, until around 1970/1, when he began to express misgivings, feeling that some progressive rock bands (such as Ten Years After and Deep Purple) were not "progressive" in the true sense of the word but tending to be all show and no substance.[2] He was profoundly unimpressed by Emerson, Lake & Palmer, calling their début London concert "a complete waste of time, talent and electricity". He was supported by Top Gear's new producer John Walters, whose background as a trained musician with a knowledge of jazz made him sceptical of much prog rock. As Walters told John Tobler in Zigzag 24 (1972):
We had to get down to a right and wrong thing about the groups we book for Top Gear, although I personally detest that kind of judgment. We don't automatically book Fairport Convention or Chicken Shack for the programme. As soon as we think they've stopped developing, and aren't going to come up with anything new, we don't book them again for quite a long time. We could get much bigger names - in fact we've turned down some of the biggest international names - we just don't want to know any more, because they've stopped doing anything. A good example is Ten Years After...one suddenly realised that they had started to become victims of their own publicity, and it was now "I will now break the hundred yards dash on the guitar"...
Walters and Peel clearly had their own notions of what constituted progressive rock, and despite their dislike of some of the best-selling bands working in the genre, were quite happy to feature other, often more experimentally-oriented outfits on Top Gear. Among them were Soft Machine, Caravan, Van der Graaf Generator, Gentle Giant, and bands associated with the Virgin record label during its early years (Slapp Happy, Henry Cow, Hatfield and the North). Peel retained his affection for Pink Floyd and encouraged European groups such as Gong, Magma, Wigwam and PFM. The German artists whose works were given the umbrella name of Krautrock, such as Can and Tangerine Dream, also made an impact, even if some had little direct relation to prog rock.
The BBC had called Radio 1's evening strand, Sounds of the Seventies, "progressive pop", although the shows hosted by Peel, Bob Harris and other DJs contained not just prog rock, but a variety of genres popular in the early 1970s; country rock, folk, reggae, soul, rock'n'roll revivalism and music by singer-songwriters such as Elton John, Carole King and James Taylor. However, by the mid-1970s the various "progressive" styles were appearing less regularly in Peel's playlists; the rock scene was changing due to the emergence of pub rock and, later, punk. This led to shorter, simpler records which corresponded more to Peel's own tastes (and to the preferences of many 1970s rock critics). By the late 1970s prog had disappeared from his shows, although it continued to find exposure on other programmes such as those of Alan Freeman and Tommy Vance.
Looking back on the era in 1988, he told an interviewer from Time Out:
"In the early 70s Progressive Rock was a label rather like Independent is now; the music was supposed to have inherent merit. Just the fact that it was tagged Progressive somehow made it good, which wasn't necessarily the case at all. Most of it was unutterable crap. I know becase I wrote the sleeevenotes...." [3]
Yet much later the BBC news presenter James Naughtie, known for his love of classical music and opera as well as for his long stint on Radio 4's Today programme, wrote in a Radio Times article [ref.] that one of the positive aspects of the much-maligned 1970s was being able to listen to progressive music on John Peel's Radio 1 shows.
References
↑ The term was reportedly invented by Melody Maker journalist Chris Welch to describe Cream.(Mojo, May 2018, p70)
↑ In a 1971 Melody Maker interview with Michael Watts (quoted by Ken Garner, The Peel Sessions, BBC, 2007, p75), Peel laid into bands such as Deep Purple, Black Sabbath, ELP and Ten Years After:
"Those bands have lost the spark somewhere down the line and are basically going through a routine... we're going through a very sterile period... the one distinguishing feature of Progressive music with a capital "P" is that under no circumstances should it progress an inch, because if it does people don't want to know."
↑

Nick Coleman, "Resounding Peel", Time Out No. 948, October 19-26 1988; 20th anniversary supplement, pp. 13-14.
See Also
External Links
Community content is available under
CC-BY-SA
unless otherwise noted.