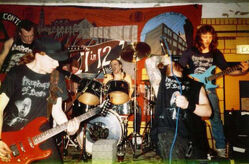 Prophecy Of Doom was an English Grind / Death Metal band from Tewkesbury, Gloucestershire. They recorded two full-length albums, the last in 1992 after which the band split up, however two farewell releases appeared in 1996 and 2007. The group were one of the very few extreme musicians who didn't feature lyrics of Satan or horror. Their lyrics were mainly based on philosophy and psychology.
Links to Peel
Peel first played their material in 1989 and a year later got them to do a session for his show. Peel called their album, Acknowledge The Confusion Master, as one of his favourite LP's of 1990 on a couple of occasions.
In 1991, the band did their second session, which they dedicated it to the Tibetan cause, but by the end of 1992, the group split and rarely got any airplay after that.
Sessions
The band's first session is available on The Peel Session (1990, 12", Strange Fruit) and Retrospective 1988-1991 (2019, CD, Boss Tunage). Their second session is also available on Retrospective 1988-1991.
1. Recorded: 1990-01-28. First Broadcast: 14 February 1990. Repeated: 27 March 1990, 23 December 1990
Insanity Reigns Supreme / Earth Reality Victim / Rancid Oracle / Hybrid Thought
2. Recorded: 1991-04-07. First Broadcast: 01 June 1991. Repeated: 20 July 1991
Raze Against Time / Onward Ever Backward / Acknowledge The Confusion Master / The Voice Of Tibet/Our Shame & Hypocrisy
Other Shows Played
1990
1992
External Links
Community content is available under
CC-BY-SA
unless otherwise noted.