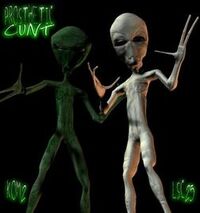 Prosthetic Cunt
"play SCAB-RIPPING FUTURISTIC ALIEN PORNO GORE-GRIND!,"
according to their official website. They were formed in November 1999 by self-professed atheist Roger J. Beaujard (
Mortician
) and Carl Schultz: their mission appears to be to play
grindcore
as fast as possible and mix it with movie samples. Their debut release from 2001,
Fucking Your Daughter With A Frozen Vomit Stick,
gives fair warning of the contents, and gets through 40 songs in 20 minutes. There are several reasons given for their choice of name, including being a play on grindnoise band
Anal Cunt
(another Peel favourite) and the fact that they record their material through a PC. This kind of thing was familiar to JP from Beaujard's earlier work, and he programmed several tracks by the band in the final year of his show (although the BBC stopped short of inviting them for a session, undoubtedly due to their name).
Festive Fifty Entries
Sessions
Other Shows Played
External Links