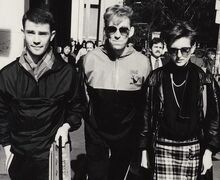 Quando Quango were an Anglo-Dutch electronic music group, formed by The Haçienda DJ and Factory Records A&R man Mike Pickering, Hillegonda Rietveld and Reinier Rietveld. Their unique sound influenced the underground dance music scenes in New York and Chicago in the 1980s. Their first release was the "Go Exciting" twelve-inch single on Factory Records in 1982, and their last release of new music was the 1985 full-length album Pigs + Battleships (reissued on CD by LTM Recordings in 2003 and 2013).
The group was formed in Rotterdam, The Netherlands in 1980, by the Mancunian Mike Pickering and Rotterdam-based Gonnie Rietveld, supported on drums by her brother Reinier Rietveld. In 1982 they moved to Manchester, England, where Pickering's friend Rob Gretton was setting up The Haçienda nightclub.
In 1983, Reinier Rietveld left the group to concentrate on his band Spasmodique. Soon after, former A Certain Ratio singer/trumpeter/percussionist Simon Topping joined as percussionist. Gonnie Rietveld settled into her role programming their electronic music, and Pickering continued to write lyrics and melodies.
(Read more on Wikipedia)
Links to Peel
Peel played the group's debut single in 1982 and on his 01 December 1983 show described the group as a great live band, when he was doing a gig with them recently at Kingston Polytechnic. On the same show, Peel broadcast the group's debut session.
The band continued to get airplay on Peel's show, but in 1986, the group split with Mike Pickering forming dance duo T-Coy with Topping, whose tracks were also played by JP.
After Peel's death, it was later found that he had the group's Pigs & Battleships album in his Record Collection: Q.
Sessions
1. Recorded: 1983-11-23. First Broadcast: 01 December 1983. Repeated: 19 December 1983, 23 February 1984
Love Tempo / Go Exciting / Triangle
Other Shows Played
1982
1984
04 February 1984 (BFBS)

: Love Tempo (single) Factory
18 June 1984: Atom Rock (12" - 2 From Quando) Factory

27 June 1984 (BFBS)

: Atom Rock (12" - 2 From Quando) Factory
1985
External Links