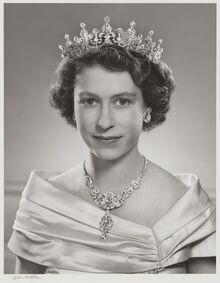 Queen Elizabeth II (Elizabeth Alexandra Mary; born 21 April 1926) is Queen of the United Kingdom and the other Commonwealth realms. Elizabeth was born in London as the first child of the Duke and Duchess of York, later King George VI and Queen Elizabeth, and she was educated privately at home. Her sister, Princess Margaret, was four years younger than her and she died in 2002, whilst her father acceded to the throne on the abdication of his brother King Edward VIII in 1936, from which time she was the heir presumptive. She began to undertake public duties during the Second World War, serving in the Auxiliary Territorial Service. In 1947, she married Prince Philip, Duke of Edinburgh, a former prince of Greece and Denmark, with whom she has four children: Charles, Prince of Wales; Anne, Princess Royal; Prince Andrew, Duke of York; and Prince Edward, Earl of Wessex.
Links to Peel
Peel was not a keen royalist, but did obtain a double album issued by the BBC released during 1977 Queen's Silver Jubilee, which featured non music background of principal personalities and events relating to the Queen from 1947 to 1977. The double album, which Peel titled as Queen Elizabeth, was found in his Record Collection: Q.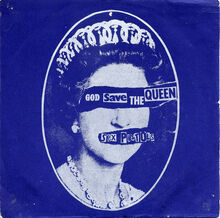 The Queen was regarded as a symbol of Britain, and pop musicians and youth cultures responded to her in various ways, sometimes with affection; the Beatles received their MBEs from her at Buckingham Palace in 1965 and three years later Paul McCartney wrote a short song called "Her Majesty", which was seen as a tribute to her (although it was supposedly about McCartney's partner, or possibly dog). A decade later the Sex Pistols released their angry, "no future" punk anthem "God Save The Queen", which bore no resemblance to the National Anthem and was banned by the BBC, although Peel ignored the ban and played it on his programmes. The single's picture sleeve, featuring a defaced image of Queen Elizabeth II, was reproduced on T-shirts worn by punks, to the disgust of an older generation which included many monarchists.
See Also
External Links
Community content is available under
CC-BY-SA
unless otherwise noted.