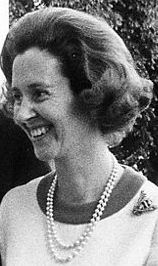 Queen Fabiola of Belgium (born Doña Fabiola de Mora y Aragón on 11 June 1928 – 05 December 2014) was Queen of the Belgians from her marriage to King Baudouin in 1960 until his death in 1993. The couple had no children, so the Crown passed to her husband's younger brother, King Albert II.
The Queen was born in Madrid, Spain, at the Palacio Zurbano, the main residence of the Marqués de Casa Riera. She was the sixth of seven children of Don Gonzalo de Mora y Fernández y Riera y del Olmo, 4th Marqués de Casa Riera, 2nd Count of Mora (1887–1957), and his wife, Doña Blanca de Aragón y Carrillo de Albornoz y Barroeta-Aldamar y Elío (1892–1981), daughter of the 6th Marchioness of Casa Torres and Viscountess of Baiguer. Her godmother was Queen Victoria Eugenia of Spain.
Links To Peel
At the 1987 Eurovision Song Contest in Brussels, Belgium, Peel briefly met some of the Belgian Royal Family including Queen Fabiola, who talked to him about California and keyboards, as mentioned on his 11 May 1987 show.
See Others
External Links