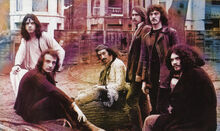 Quintessence was a rock band formed in April 1969 in Notting Hill, London, England. Their style was a mixture of jazz, psychedelic rock and progressive rock with an influence of music from India. The original line-up included Sambhu Babaji (bass guitar), Maha Dev (rhythm guitar), Shiva Shankar Jones (vocals, keyboards, percussion), Jake Milton (drums, percussion), Allan Mostert (lead guitar), and Raja Ram (flute, percussion). The band split up in 1980 with Raja Ram forming a Goan trance group called the Infinity Project in the late 80's and the others continuing in their rock music pursuits.
Links to Peel
During the late 1960's and early 1970's, Peel was enthusiastic enough about the group's music to play a few tracks by them on his programmes and introduce them on a Radio 1 In Concert show, but they never became one of his major enthusiasms. They were closely associated with the Notting Hill area at the time when it was the home of the London underground scene and were very much a community band, something JP would have approved of, but, as someone who was sceptical of the then current fashion for gurus and eastern religions, he may well have been wary of their Indian musical and religious influences.
Quintessence made very little commercial impact, releasing a final LP in 1972, and JP seemed to have lost interest in them in later years but on his Peel 002 (Radio Bremen) show in October 1991, he mentioned that Raja Ram went out with his brother's first wife and that since leaving Quintessence, he had made better music with the Infinity Project. He also played a shorter version of Quintessence's track "Giants" track on the programme.
Live
Recorded at the Paris Theatre on 1970-09-24. First Broadcast: 04 October 1970
Gunga Mai
Giants
Midnight Mode / Only Love / Freedom
Other Shows Played
1969
1991
External Links