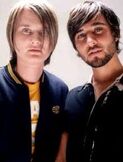 Röyksopp are an electronic music duo from Tromsø, Norway formed in 1998. The duo consists of Svein Berge and Torbjørn Brundtland. Emerging from the 'Bergen wave' they left the local independent label Tellé to sign for Wall of Sound in the UK 2001. They released their first single for the label, entitled 'Eple', in the summer of that year and their debut album Melody A.M. in October. After some degree of underground success, the album eventually charted in the UK in August 2002, and Eple reaching the Top 20 in March 2003. The band's success and prestige in the electronic music scene has increased as they continue to record and perform, although their last new material, a single, dates back to September 2016.
The group's name derives from the Norwegian word "røyksopp", meaning "puffball" or "mushroom cloud".
Links to Peel
Peel was an early supporter of the group playing their debut Wall of Sound single 'Eple' on its release in the summer of 2001 (some twenty-one months before it eventually charted). However, his interest does not seem to have gone beyond that and there is no evidence that he even featured any tracks form their debut album.
The track Röyksopp's Night Out from Melody A.M. is included in Nick Hornby's 31 Songs book, reviewed by Peel for the Observer.
Sessions
Other shows played
External links