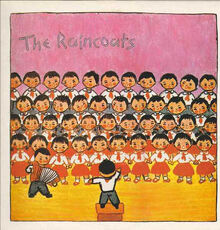 The Raincoats are a British experimental post-punk band. Ana da Silva (vocals, guitar) and Gina Birch (vocals, bass) formed the group in 1977 while they were students at Hornsey College of Art in London. Signed to the label Rough Trade, the band released three albums in their early incarnation: 'The Raincoats' (1979), 'Odyshape' (1981), and 'Moving' (1984). They reformed in 1993 and released the album 'Looking in the Shadows' in 1996.
(Read more at Wikipedia).
Links To Peel
"There have been several reviews of the [Raincoats] album, saying that it was really rather miserable and depressing sort of a record. ... I will admit that the Raincoats are not the Undertones. But the Undertones are not the Raincoats."
(John Peel, BBC Radio One, 12 December 1979)
Peel gave regular airtime to the Raincoats during their initial run of Rough Trade releases around the turn of the 1980s, including an unexpected cover version of 'Lola' (originally by the Kinks), plus two sessions. The band were part of a new generation of emerging female musicians in the post-punk era, with personnel links to the Slits and the Mo-Dettes.
After a decade of inactivity, the band reformed and returned to the Peel show in 1993, encouraged by the support of influential long-time fan Kurt Cobain. Another session was recorded, putting the band on the list of Longest Gaps Between Peel Session Appearances, but was not broadcast until after the death of the Nirvana superstar in April 1984, with the DJ reading out a dedication to Cobain from the Raincoats.
Festive Fifty Entries
Sessions
Three sessions. #3 available on the Blast First CD single – Extended Play (1994).
1. Recorded 1979-03-06. First broadcast 19 March 1979. Repeated 01 May 1979, 27 June 1979.
In Love / You're A Million / Adventures Close To Home / Fairy Tale In The Supermarket
2. Recorded 1980-12-10. First broadcast 18 December 1980.
Using My Eyes / Family Treet / Baby Song
3. Recorded 29 March 1994-03-29. First broadcast 16 April 1994. (John reads out a dedication to Kurt Cobain, from the Raincoats, before their first session track is broadcast. The dedication is also repeated before their last track. )
No One's Little Girl / Don't Be Mean / We Smile / Shouting Out Loud
Other Shows Played
1979
1980
1981
17 March 1981: Shouting Out Loud (Cassette-NME/Rough Trade C81) New Musical Express
19 May 1981: Baby Song (LP - Odyshape) Rough Trade
30 June 1981: And Then It's O.K. (album - Odyshape) Rough Trade
1982
1983
1984
1990s
2000s
See Also
External Links
Community content is available under
CC-BY-SA
unless otherwise noted.