Obi-Wan Finale - The Loop
Play Sound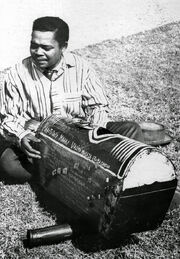 Rakotozafy (pronounced Rakoutzaf) (1933 - 1974) ,is the founding father of modern Madagascan music. His origins were in the Sihanaka tribe from the Lake Alaotra region. He was called the "Robert Johnson of Madagascar" and like Johnson, he was one of the best players on his instrument, in this case a variation of the national stringed instrument known as the valiha, called the marovany. His instrument featured a total of 24 strings in the two sets, each set tuned to a different scale.
Rakotozafy made his first recordings on singles and 45 EPs in the '60s for DiscoMad and was frequently accompanied by Freddy Renarison and Rakotofra, the sodina player in live performances, often supported by his son on percussion and vocals, that he really excelled. He performed before the president Philibert Tsiranana in 1962 as well as thousands of his country people. Reports suggest that he actually visited U.K. in the early 60s as a member of Sylvestre Randafison's group, Ny Antsaly. That so much confusing and conflicting information surrounds his life simply adds to his reputation with numerous African musicians.
(read more on the freedom spear blogsite)
Links to Peel
Peel was fond of Rakotozafy's 'Valiha Malaza = Famous Valiha' album, which was a compilation of the musician's work that was released in 1988 on the Globe Style label. Several tracks of the album were played by Peel in 1988. The artist never released any other albums, although did release many singles. Rakotozafy later had a song on the fRoots compilation album released in 1995 which Peel played.
Shows Played
1995
11 August 1995: 'Mandihiza Raha Mana'elatra (CD-Froots #5)' (Folk Roots)
External Links