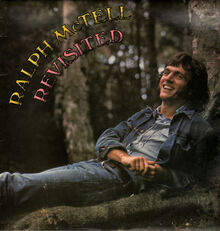 Ralph McTell (born Ralph May, 3 December 1944) is an English singer-songwriter and acoustic guitar player who has been an influential figure on the UK folk music scene since the 1960s.
McTell is best known for his song 'Streets Of London', which has been covered by over two hundred artists around the world, and for his tale of Irish emigration, 'From Clare to Here'.
(Read more at Wikipedia.)
Links to Peel
Without ever being a fashionable figure with pop critics or a special favourite of John Peel, Ralph McTell still managed to clock up eight Peel sessions, which showed that the DJ had some respect for the singer. McTell's earliest LPs were for Transatlantic and, like Bert Jansch and John Renbourn who also recorded for that label, he was praised for his guitar style, which in his case drew heavily on ragtime and blues artists, like Blind Wille McTell from whom he took his stage name.
The record-buying public knew Ralph McTell best for his 1975 million-seller "Streets of London"[1], his biggest (and only) UK singles chart success. The singer never recorded it for a Peel session, but the DJ praised some of McTell's other songs (like "Michael In The Garden") when the sessions were broadcast. JP also introduced a Radio 1 Concert (in 1971) and an edition of Sounds On Sunday (in 1974) featuring McTell. The singer's final session, from 1976, included two Woody Guthrie songs, "1913 Massacre" and "Vigilante Man", demonstrating that, despite his commercial success, Ralph McTell never deserted his folk roots - which may have been why Peel admired him. After that, McTell continued to appear on other radio and TV programmes, and in the 1990s he regularly presented folk music shows on Radio Two.
In December 1981, Peel gave airtime to the Anti-Nowhere League's punked-up cover of 'Streets Of London'.[2]
Festive Fifty Entries
Sessions
Eight sessions. No known commercial release.
1. Recorded 1970-02-09. First broadcast 28 February 1970. Repeated 23 May 1970.
The Clown / Michael In The Garden / Daddy Is Here / Eight Frames A Second
2. Recorded 1970-11-09. First broadcast 19 December 1970.
Spiral Staircase / The Ferry Man / Too Tight Rag / Chalk Dust
3. Recorded 1971-12-06. First broadcast 15 December 1971. Repeated 08 February 1972.
Genesis I. 20 / The Ferryman / Nettle Wine / Bird Man / In Some Way I Loved You (first TX 08 February 1972 repeat)
4. Recorded 1972-04-24. First broadcast 12 May 1972. Repeated 23 June 1972.
When I Was A Cowboy / Small Voice Calling / A Woman With One Leg / Honey Baby Now
5. Recorded 1972-10-03. First broadcast 24 October 1972.
When I Was A Cowboy /Zimmerman Blues / Barges / First Song
6. Recorded 1974-02-05. First broadcast 19 February 1974.
When Maddy Dances / Secret Mystery / Let Me Down Easy
7. Recorded 1975-02-27. First broadcast 06 March 1975. Repeated 22 May 1975.
Interest On The Loan / El Progresso / Would I Lie To You / Country Boys
8. Recorded 1976-12-02. First broadcast 06 December 1976.
1913 Massacre / Drybone Rag /Rizak-Laru / Naomi / Vigilante Man / From Clare To Here/ Summer Lightning
Live
Other Shows Played
See Also
External Links
Community content is available under
CC-BY-SA
unless otherwise noted.