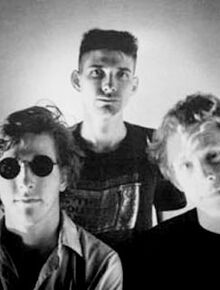 Rapeman was an American rock band founded in 1987 and disbanded in 1989. It consisted of Steve Albini (formerly of Big Black) on guitar and vocals, David Sims (formerly of Scratch Acid) on bass, and Rey Washam (formerly of Scratch Acid and Big Boys) on drums. The band took their name from a popular Japanese comic book that fascinated Albini and Washam and, predictably, proved controversial. The band were frequently confronted by protestors while on tour. Their first EP, 1988's "Budd" was named after Budd R. Dwyer, a politician from Pennsylvania who committed suicide in 1987 during a live television broadcast. Following 1989's "Two Nuns And A Pack Mule" LP, the group split due to personal tensions between two of the members. Albini later formed Shellac in 1992.
Links To Peel
As a big fan of Steve Albini's work with Big Black, Peel was interested in Albini's subsequent projects including Rapeman, although he wasn't really happy with the band's name. Nonetheless, Peel did enjoy the group's music and played them on his show in the late 80s and early 90s.
Having failed to catch the final tour of Big Black, Peel eagerly made his way to the Man Fiddler in Harlesden, north London, to experience Albini's new outfit live in October 1988, despite their "miserable choice of name". Reviewing the gig for the Observer, the DJ wrote:
"With a drummer and a bassist drafted in from the Texan band Scrach Acid giving him thunderous support, Albini's performance — words flung at the microphone as his head hurtles past it, guitar playing fired by his apparent determination to make the machinery reproduce the noises in his head even if he can't — is so intense that to greet it with mere applause seems faintly insulting." [1]
Shows Played
1988
1989
1990
1992
2000
External Links
References
↑ Observer, 1988-11-20, accessed via Guardian and Observer Digital Archive.
Community content is available under
CC-BY-SA
unless otherwise noted.