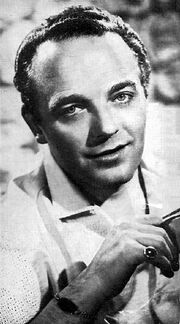 Ray Martin
(Raymond Stuart Martin; born Kurt Kohn and later anglicised his name) (11 October 1918 - 7 February 1988) was a British-Austrian orchestra leader. He was noted for his light music compositions. Born in Vienna, Austria, he was initially a violinist and studied at the State Academy of Music and Fine Art in Vienna. In 1937, he immigrated to England and was a Carroll Levis discovery. After the start of World War II, in 1940, he joined the British Army. As he was multilingual, he served in the Intelligence Corps for six years. He became an arranger and composer for the Royal Air Force Band. During this time, he also managed to rescue his brother, who was imprisoned in a concentration camp. After the war's end, he worked in radio for the British Forces Network in Hamburg, Germany, and later formed his own orchestra for a programme called Melody from the Sky which had over 500 performances. He became the conductor of the BBC Northern Variety Orchestra and also worked for EMI as a record producer and arranger. In this period he wrote many scores for TV and movies. He moved to the U.S. in 1957, where he worked on both Broadway and Hollywood productions. Martin composed more than 2,000 works, many of which were recorded for RCA and Polydor. He returned to the UK in 1972, before moving to South Africa in 1980, where he died in Johannesburg, from cancer in 1988 at the age of 69.
Links To Peel
Ray Martin's Blue Tango track was the first record bought by Peel in 1952 at the age of 13. The record reached number 8 in the UK Singles Chart in that year. However on Peeling Back The Years after John Walters asked him why he bought the record, Peel responded stating that people used to give him records when he was a child. However on the programme, Peel never mentioned that he was a Ray Martin fan. Throughout his broadcasting career, Peel rarely played Blue Tango on his show or any of Ray Martin's other records, however he kept the record on his John Peel's Record Box.
Shows Played
1993
30 October 1993: 'Blue Tango (7 inch)' (Columbia) (JP .. 'this is in fact the very first record that I ever bought. Well it is embarrassing there's no question about that.')
Others
External Links
Community content is available under
CC-BY-SA
unless otherwise noted.