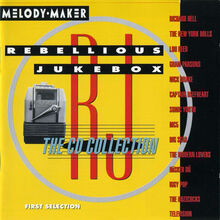 Rebellious Jukebox (named after The Fall song) was a feature in the Melody Maker during the early 90's, where musicians or those associated with the music scene picked usually between ten or twelve records that made an impact on their lives. Some of those who took part in Rebellious Jukebox included Kurt Cobain and actor Phil Daniels, who starred in Blur's Parklife video and Quadrophenia, a 1979 British drama film, loosely based on The Who's 1973 rock opera of the same name. A CD named Rebellious Jukebox was released by the Melody Maker in 1993, which contained a selection of songs that made an impact on various music celebrities.
Links to Peel
Peel took part in Rebellious Jukebox that was published in the Melody Maker on December 1994, where he picked the following twelve records in no ranking order that made an impact on his life:
External Links
Discogs (CD compilation released in 1993)
Community content is available under
CC-BY-SA
unless otherwise noted.