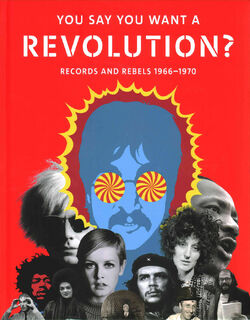 From Sept. 2016 to Feb. 2017, around 200 LPs from John Peel's Record Collection were part of an exhibition at London's Victoria & Albert Museum, "You Say You Want a Revolution? Records and Rebels 1966-70".[1][2]
According to the official V&A website:
This major exhibition explored the era-defining significance and impact of the late 1960s, expressed through some of the greatest music and performances of the 20th century alongside fashion, film, design and political activism.[3]
A full list of the albums used from Peel's collection was published online by teamrock.com,[4] and is reordered and reformatted below with additional information where known.
Although many of the records chosen would be familiar to listeners to his shows of the 1960s and '70s in particular, a few of the items were seldom or never played on the radio by Peel but illustrate the different topics covered in the exhibition, set out in an introductory article on the V&A website.[5]
While the albums cover a variety of genres, the artist with the highest number of LPs (6) is the Grateful Dead, the band most closely associated with hippy culture. Although Peel still claimed in the 1990s to have retained "something of the old hippy", he rarely revisited the Dead's music after the 1970s and was critical of DJs who did. The exhibition covers the years when Peel became famous, but apart from some memorable records and gigs he didn't seem to look back at the time with special fondness.
His personal favourites of the period, Captain Beefheart and Tyrannosaurus Rex, are only represented in the exhibition by a single album apiece. Other artists who remained in Peel's playlists fare better, including Fairport Convention (4 LPs), John Fahey and Neil Young (3 each).[1]
LPs
Artist | Album | Year | Record Collection Index (where known) | Discogs
A
Amon Duul II

: Phallus Dei (1969) [6]

Albert Ayler

: Bells (1965) [7] (According to a comment in Disc & Music Echo, Peel played a track by Ayler on an early Night Ride, although the playlist is unavailable at present. No other plays of the saxophonist's music are known.)
B
C
D
E
F
G
H
I
Incredible String Band: Be Glad The Song Has No Ending (1970) [90] (Side two of this LP is soundtrack music to Peter Neal's documentary film of the same name, showing the ISB at the peak of their popularity in 1968-69.)

Iron Butterfly

: Heavy (1968) [91]
J
K
King Crimson: In The Court Of The Crimson King (1969) [107]

Jim Kweskin

: Jim Kweskin's America (1971) [108] ( Jim Kweskin's Jug Band were popular on the US folk scene in the mid-'60s and were associated with Joe Boyd, when Boyd was a student at Harvard. Some of their albums were issued in the UK, although no Peel plays are known. After they split up, Kweskin recorded this LP. whose full title is Richard D. Herbruck Presents Jim Kweskin's America Co-starring Mel Lyman And The Lyman Family. Lyman, formerly the Kweskin band's harmonica player, became a notorious cult leader, and his "Lyman Family" commune was the subject of a long exposé in Rolling Stone in 1971.)
L
Last Poets

: The Last Poets (1970) [109] (Peel told Melody Maker in 1971 that he thought this was the "strongest" LP of 1970, but that the BBC wouldn't allow him to play it on the radio because of its "obscene" language. However, it got plenty of exposure on the Monte Carlo-based "underground" radio station, Radio Geronimo)
Led Zeppelin: Led Zeppelin III (1970) [110]
John Lennon & Yoko Ono: Unfinished Music Vol. 2: Life With The Lions (1969) [111]
John Lennon: Plastic Ono Band (1970) [112]
John Lennon: Imagine (1971) [113]
Lovin' Spoonful: Daydream (1966) [117]
M
N
O
P
Q
R
S
T
U
V
W
White Noise

: White Noise (probably a mistake in the listing; the band's first LP, An Electric Storm [185], was issued in 1969)
X
Y
Z
1-9
13th Floor Elevators: Easter Everywhere (1967) [197] (The band were little-known in the UK in the late 1960s, and weren't played by Peel on Top Gear or Night Ride, even if  their LPs were among those imported by the London record shops he frequented. However their reputation gradually grew and later they picked up some plays on his shows, as did co-founder Roky Erickson with subsequent projects.)
13th Floor Elevators: 13th Floor Elevators (1966) [198]
See Also
Links
BBC Genome Peel presents a "Hippy Night" theme evening on BBC Choice in 1999 to mark the anniversary of Woodstock.
References