Record Mirror was a British weekly music newspaper, published between 1954 and 1991. It became popular in the 1960s, featuring colour pictures and full UK and US singles chart listings, and was one of the four leading music weeklies of the '60s, alongside New Musical Express, Melody Maker and Disc & Music Echo. Later Record Mirror went through a number of relaunches and changes of ownership before closing in 1991.
Links to Peel
Writers with Peel connections who worked for the paper included Tony Hall [1]and Charlie Gillett. Peel himself never wrote for the paper, but was interviewed for it in 1974[2] and in 1986 (see link below).
His name appeared fairly regularly in Record Mirror's pages, with (as in Melody Maker) frequent mentions in 1968, when he became a fashionable figure. However, RM catered for a variety of audiences, not just those whose tastes were formed by listening to Peel's shows. Because of this, he usually featured in its best DJ poll listings but was rarely the winner, and, as can be seen below, some of the articles, artist interviews and listeners' letters which referred to Peel were critical of him.
Peel mentioned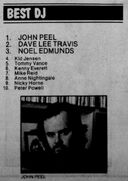 1967
September 23:: "Bill Harry's Pop Talk"; "...John Peel's 'The Perfumed Garden' to be presented at Tiles each Sunday..."[4]
November 18:: Results of 1967 readers' poll. Peel sixth in Top DJ listing with 384 votes - winner is Jimmy Savile, followed by Simon Dee and Tony Blackburn. Perfumed Garden fifth in TV or Radio Show list (433 votes).[5]
December 30: "Captain Beefheart To Tour In January"; "The sensational Captain Beefheart And His Magic Band are coming to Britain on January 13.....Although Beefheart's "Safe As Milk" album has not yet been issued, he has been described by DJ John Peel as "...Incredible. The most fantastic West Coast act I've seen"". [6]
1968
1969
1970s
1970
1971
8 January: "Old Lon's Almanac - an improbable look at the year ahead"; "March: Eurovision winner John Lennon replies to chat show celebrity John Peel's accusation that his peace antics are insincere; "peace peace peace peace peace and more peace, you big twit!""[41]
20 February: "Mirrorpick/LPs" - reviews (p.19): SIREN "Strange Locomotion" (Dandelion DAN 8001); PRINCIPAL EDWARDS MAGIC THEATRE - "The Asmoto Running Band" (Dandelion DAN 8002); STACKWADDY - "StackWaddy" (Dandelion DAN 8003); THE WAY WE LIVE - "The Way We Live" (Dandelion DAN 8004). "John Peel's relaunched Dandelion label will, hopefully, receive more attention than of late. The initial release batch of four are of a higher standard than previous Dandelion product with The Way We Live being the outstanding offering...."[42]
17 April: Marc Bolan interviewed by Keith Altham (p.7): "...John Peel rang up to say he was 'beginning to feel like a groupie' and publicist B. P. Fallon said `GodBless' as is his wont and I got a cab in Little Venice and went home."[43]
29 May: Peel placed fourth in paper's "Top Jock Survey" (p.15), benind winner Jimmy Savile, Tony Blackburn and Dave Lee Travis.[44]
5 June: Interview with Colin Earl of Mungo Jerry: "Just at the moment we would be happier if Peel gave us a play because he seems to have ignored us since 'In The Summertime' - we get the impression he doesn't like us anymore..."[45]
"Albumscope" - back page ad feature, with LP sleeves and blurbs: Lol Coxhill - Ear of Beholder, DSD 8008. "Lowen Coxhill, busker extraordinary, star of John Peel's recent appearance on 'One Man's Week' (for details, see Peel On TV) and ex -member of Kevin Ayers and the Whole World has come up with a truly remarkable debut solo double album retailing at the price of one. It represents amazing value." (link as above)
24 July (p.11): Interview with Harry Simmonds, manager of Savoy Brown and Chicken Shack, who complains about the club scene and lack of radio exposure: "What we need is 10 John Peel's, 10 Mike Raven's, 10 Rosko's and the hierarchy of the BBC to open their eyes every now and then..."[46]
7 August (p.3); "Inside Straight" - column for soul record collectors, by Tony Cummings: "Someone should mention to John Peel ('the most informed record reviewer' - 'Scene And Heard') that it was the Velvelettes who cut 'Needle In A Haystack'. The Velvelettes were the black girl group used for a time by the late Cyril Davies."[47]
25 September (pp.8-9): "The world of Radio - Number two in a series by Rodney Collins". Long piece on new developments at Radio 1 - interviews with "new" DJs Dave Lee Travis, Dave Eager, Alan Black and Bob Harris ("Bob lists John Peel, Johnnie Walker and Terry Wogan among the bradcasters he most admires") as well as with Douglas Muggeridge and Teddy Warrick.[48]
9 October (p.2): Mirrormail - readers' letters page, headlined "We don't all like John Peel". A teenage reader criticises Radio 1's programming: "...And when we turn on the radio at three o'clock on Saturdays - the peak listening hours - it's that horrible, rubbishy, noisy programme, introduced by that weird DJ, John Peel. In fact no one I've asked likes the programme...We don't all like John Peel music"[49]
9 October (p.7): "Peel gets a Lux spot": "John Peel has joined Radio Luxembourg, strengthening the stations recent step-up on progressive programming. Starting from November 5, Peel will have his own hour-long show every Friday from 6.30pm to 7.30pm. Peel will choose all the material for the programmes and will produce them himself..." (read more at above link)
20 November (p.10): "On The Boxes" - radio listings for the week include mention of JP's "new Radio Luxembourg show every Friday evening (6.30-7.30 pm) called "Stenhousemuir 2, Cowdenbeath 2" and also reminds readers; "Don't forget Stereo Rock BBC Radio 3 every Saturday evening (5.30 to 6.0 pm) introduced by Manfred Mann". [50]
4 December (p.4): "Marc Bolan is also set to appear with a panel of guests on London Weekend's networked television show 'Pop And The Media' which will be screened on December 12. Other artists appearing include Edgar Broughton, John Peel and Tony Palmer, and film clips from `Gimme Shelter' will be shown."[51]
11 March 1972 (p.3): On The Boxes" - radio and TV listings for the week. Peel's Radio Luxembourg show now at 1 a.m. on Friday night/Saturday morning. [52]
I April 1972 (p.6): On The Boxes" - radio and TV listings for the week, plus Record Mirror's Top Forty DJs, from the paper's Pop Poll. Peel is fourth, behind winner Jimmy Savile, Tony Blackburn and Noel Edmonds.[53]
13 May 1972 (p.3): "Maybe if you're young enough, from a dreary environment with nothing but a soul destroying future, then maybe you could enjoy a festival like BICKERSHAW". Scathing report by Norman Jopling: "The announcements were the usual pot- pourri of "do- this- do -that" warnings to the punters and Woodstockian announcements, some of which were real bummers...delivered in that studied John Peelian English Doper voice..."[54]
13 May 1972 (p.13): Interview with producer Johnny Beerling, discussing his ideas for Radio 1: " ..John Peel's show for instance is the type of programme to be listened closely to. I don't think it should be poked away in some corner on its own." (link as above)
21 July 1973 (p.6): "Peel Pal: Thirteen-year-old singer/songwriter Maldwyn Pope from Swansea made his first broadcast on John Peel's Top Gear on Tuesday after sending a tape of his music to Peel, who was impressed enough to invite him on the show. Maldwyn has been a musician for two years".[55]
16 February 1974 (p.8): Radio Waves section: 'Beeb bulletin', "Tonight (Thursday) John Peel presents Caravan, Boys of the Lough and Peter Hamill. [...] Horslips, Ralph McTell an Bob Sergeant get into Top Gear on Tuesday." [56]
23 February 1974 (p.8): Radio Waves section: 'Beeb bulletin', "Tonight (Thursday) John Peel has Tangerine Dream, Robin Dransfield and the JSD Band." Bulletin also mentions the line-up for the next Top Gear show, presumably for the following Tuesday.[57]
20 April 1974 (p.8): Radio Waves section: 'Beeb bulletin', "Paul Gambaccini steps in to John Peel's shoes tonight (Thursday) to present Buddy Knox and Joan Armatrading." ([58]; this refers to 1974-04-18, see also 11 April 1974 on Peel's two-week absence).
1980s
In the 1979 Readers' Poll, published in issue dated 12 January 1980, Peel won both the Best DJ and Best Radio Show categories. The same issue featured an interview with producer John Walters talking about Peel.[6] It's not clear whether Peel himself was unavailable for the interview or whether he had refused to do it.
1980 Readers' Poll: no.1 DJ of the Year category (no.2 Vance, no.3 Read).[64]
On page 2 of the issue dated 3 January 1981, Record Mirror ran a news item about Peel leaving Radio One to join Capital Radio. In a "lucrative" deal Peel would be given the station's breakfast show slot with four hours of programmes seven days a week. Peel is reported to have said that he new job would give him "security for my wife and family, something I would never have got with Radio 1". Radio 1 Controller Derek Chinnery described the move as "night time robbery".

The same page also ran news stories about David Bowie buying his own theatre and a new supergroup involving Dave Edmunds, Nick Lowe and members of The Police. Although a casual reader would find them competently written, all three "news" items can be considered as fake[7]. The article may well have been intended as parody or satire; it seems improbable that Derek Chinnery, who according to Peel "disliked me intensely, and took every opportunity to let me know that this was the case"[66],would have been upset at the DJ's departure [8]. Peel's presentation style and playlists had little in common with the pop radio breakfast shows of that time, and he certainly wasn't "an influential voice among... the housewife audience", as the article claims. What's more, the notion that Peel's deal with Capital would involve a tie-up with a clothes manufacturer seems particularly bizarre, given his lifelong indifference to fashion. John Walters firmly denied the Peel to quit Radio 1 story in a brief article in NME dtd. 31-1-1981 (which also previewed the BBC2 Arena documentary "Today Carshalton Beeches....Tomorrow Croydon").[67]
1981 Readers' Poll: no.3 in 'Top DJ' category (after Read & Travis).[68]
1982 Readers' Poll: no.5 in 'Best DJ' category (after Wright, Read, Jensen & Powell).[69]
1984 Readers' Poll: no.4 in Best DJ category (after Wright, Read & Davis although ahead of Powell, Long & Jensen).[70]
1985 Readers' Poll: no.2 in 'Least Offensive DJ' category (after Wright and one place ahead of Long).[71]
1986 Readers' Poll: no.2 in 'Least Worst DJ' category (Long at no.1).[72]
1987 Readers' Poll: no.2 in 'DJ' category (Long still at no.1; all top 4 as previous year).[73]
24 September 1988, p.32 (Indie charts): 'Earlier Peel'. News of new Radio 1 schedule changes, with Peel 'taking over Liz Kershaw's earlier slot', Monday to Wednesday 8.30 -10.30, 'while Nicky Campbell takes over the late night slot'. The Mirror hopes that the changes don't 'cut down too much on the sort of music represented by these pages'.[74]
1988 Readers' Poll: no.4 in 'Best DJ' category (after Mayo, Brooks & Wright).[75] Did not figure in 'Worst DJ' category. Radio 1 top in Best Radio Station category.[76]
Issue dated 12 November 1988: in the review of the Wedding Present's album Ukrayinski Vystupy v Johna Peela, contributor Tim Nicholson comments that, "John Peel must be a proud man to have fathered such a crazy notion..".[77]
References
Links
Community content is available under
CC-BY-SA
unless otherwise noted.