Record Mirror was a British weekly music newspaper, published between 1954 and 1991. It became popular in the 1960s, featuring colour pictures and full UK and US singles chart listings, and was one of the four leading music weeklies of the '60s, alongside New Musical Express, Melody Maker and Disc & Music Echo. Later Record Mirror went through a number of relaunches and changes of ownership before closing in 1991.
Links to Peel
Writers with Peel connections who worked for the paper included Tony Hall [1]and Charlie Gillett. Peel himself never wrote for the paper, but was interviewed for it in 1974[2] and in 1986 (see link below).
He was mentioned fairly regularly in Record Mirror's pages, but the paper catered for a variety of audiences, not just those whose tastes were formed by listening to Peel's shows. Because of this, he usually featured in its best DJ poll listings but was rarely the winner, and, as can be seen below, some of the articles, artist interviews and listeners' letters which referred to Peel were critical of him.
Peel mentioned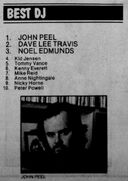 1960s
August 10, 1968; "From The Underworld - Underground Groups by Derek Boltwood", mentions many of the groups who were part of Peel's Top Gear playlists but often gained greater recognition in the US and Europe than at home. The writer blames lack of exposure on the BBC for this situation: "John Peel does give valuable airspace to so-called uncommercial sounds - and strangely enough his programme is one of the most commercial on the radio...". Marc Bolan of Tyrannosaurus Rex remarks that airplay on Peel's show aided the chart success of their single "Deborah".[4]
December 7, 1968; David Griffiths' review of Cream's farewell concert at the Royal Albert Hall includes a mention of "pleasant compering by John Peel", who was "quite comical", expressing his own ideas on who should appear at the Royal Variety Performance.[5]
13 September 1969; Front page article announcing programming changes at Radio 1 in the coming autumn. Peel's Top Gear was to move to Saturday afternoons for a 3-5 pm slot, with Johnnie Walker's show being brought forward from 1-2.55 pm. It was also noted that Peel would lose his Wednesday evening show.[3][6]
1970s
1980s
In the 1979 Readers' Poll, published in issue dated 12 January 1980, Peel won both the Best DJ and Best Radio Show categories. The same issue featured an interview with producer John Walters talking about Peel.[6] It's not clear whether Peel himself was unavailable for the interview or whether he had refused to do it.
1980 Readers' Poll: no.1 DJ of the Year category (no.2 Vance, no.3 Read).[26]
On page 2 of the issue dated 3 January 1981, Record Mirror ran a news item about Peel leaving Radio One to join Capital Radio. In a "lucrative" deal Peel would be given the station's breakfast show slot with four hours of programmes seven days a week. Peel is reported to have said that he new job would give him "security for my wife and family, something I would never have got with Radio 1". Radio 1 Controller Derek Chinnery described the move as "night time robbery".

The same page also ran news stories about David Bowie buying his own theatre and a new supergroup involving Dave Edmunds, Nick Lowe and members of The Police. Although a casual reader would find them competently written, all three "news" items can be considered as fake[7]. The article may well have been intended as parody or satire; it seems improbable that Derek Chinnery, who according to Peel "disliked me intensely, and took every opportunity to let me know that this was the case"[27],would have been upset at the DJ's departure [8]. Peel's presentation style and playlists had little in common with the pop radio breakfast shows of that time, and he certainly wasn't "an influential voice among... the housewife audience", as the article claims. What's more, the notion that Peel's deal with Capital would involve a tie-up with a clothes manufacturer seems particularly bizarre, given his lifelong indifference to fashion. John Walters firmly denied the Peel to quit Radio 1 story in a brief article in NME dtd. 31-1-1981 (which also previewed the BBC2 Arena documentary "Today Carshalton Beeches....Tomorrow Croydon").[28]
1981 Readers' Poll: no.3 in 'Top DJ' category (after Read & Travis).[29]
1982 Readers' Poll: no.5 in 'Best DJ' category (after Wright, Read, Jensen & Powell).[30]
1984 Readers' Poll: no.4 in Best DJ category (after Wright, Read & Davis although ahead of Powell, Long & Jensen).[31]
1985 Readers' Poll: no.2 in 'Least Offensive DJ' category (after Wright and one place ahead of Long).[32]
1986 Readers' Poll: no.2 in 'Least Worst DJ' category (Long at no.1).[33]
1987 Readers' Poll: no.2 in 'DJ' category (Long still at no.1; all top 4 as previous year).[34]
1988 Readers' Poll: no.4 in 'Best DJ' category (after Mayo, Brooks & Wright).[35] Did not figure in 'Worst DJ' category. Radio 1 top in Best Radio Station category.[36]
Issue dated 12 November 1988: in the review of the Wedding Present's album Ukrayinski Vystupy v Johna Peela, contributor Tim Nicholson comments that, "John Peel must be a proud man to have fathered such a crazy notion..".[37]
References
Links