Obi-Wan Finale - The Loop
Play Sound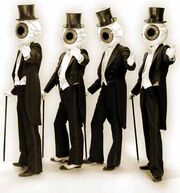 The Residents are an American art collective best known for avant-garde music and multimedia works. Since their first official release, Meet The Residents (1974), the group has released over sixty albums, numerous music videos and short films, three CD-ROM projects, and ten DVDs. They have undertaken seven major world tours and scored multiple films. Pioneers in exploring the potential of CD-ROM and similar technologies, the Residents have won several awards for their multimedia projects. Ralph Records, a record label focusing on avant-garde music, was started by the band.
Throughout the group's existence, the individual members have ostensibly attempted to operate under anonymity, preferring instead to have attention focused on their art output. Much outside speculation and rumor has focused on this aspect of the group. In public, the group appears silent and costumed, often wearing eyeball helmets, top hats and tuxedos—a long-lasting costume now recognized as its signature iconography. (Read more at Wikipedia)
Links to Peel
Having always been fascinated by bands with an unique sound and approach to music, Peel appreciated the Residents, quite often playing their music, starting from 1978. Also, in spite of their anonymity, the band had some collaborations with other artists Peel had time for, such as Snakefinger (aka Philip Lithman, previously with Peel session band Chilli Willi And The Red Hot Peppers) and Henry Cow. Their unique sound has often been likened to those of other Peel favorites such as Captain Beefheart and Better Beatles.
Peel also gave airtime to music by other artists on Ralph Records. On 17 October 1979, he played cover versions of 'I Left My Heart In San Francisco" by all four contributors to the label's Subterranean Modern compilation, who also included Chrome, MX-80 Sound and Tuxedomoon.
Sessions
Featured Shows
(Please add more information if known)
1978
1979
1980
1981
1982
1984
1985
07 April 1985 (BFBS)

: 'It's A Man's Man's Man's Man's World (7 inch)' (Korova)
1986
20 August 1986: Kaw-Liga (7") Ralph

20 September 1986 (BFBS)

: Kaw-Liga (7") Ralph
1989
1991
1992
1993
1995
2002
2003
Snakefinger
External Links