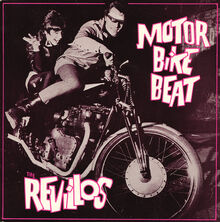 After the Rezillos split, Sire agreed to release singers Eugene Reynolds and Fay Fife from their contract, providing that the pair did not use the name "The Rezillos". Joining up with former bandmate Hi-Fi Harris and Reynolds' brother Rocky Rhythm (real name Nicky Forbes) on drums, they renamed themselves the Revillos, and continued to make music in a similar style to their former band. The Revillos had a longer career than the Rezillos, and toured and released music continually during the first half of the 1980s. The band had an ever-changing line-up, but the focus and only permanent members during this period remained Reynolds and Fife. The Revillos (and Reynolds and Fife's relationship) came to an end in 1985.
(Read more at Wikipedia.)
Links to Peel
Fronted by the distinctive ex-Rezillos vocal duo of Reynolds and Fife, the Revillos looked to continue the legacy of the former Peel favourites, adopting a similar and easily recognisable name, while the musical backbone of the earlier band split off to form Shake with Troy Tate (Teardrop Explodes, Fashion). Both successor groups recorded Peel sessions, but it was the Revillos who enjoyed greater support from the DJ, recording two sessions and gaining multiple plays for their early singles.
Peel also did gigs with them in early 1981, enjoying their goodtime "healthy vulgarity" and proudly relating that Fay Fife had once thrown a drink over him.[1] On 26 March 1981, Reynolds and Fife were interviewed by Peel and picked records for his show as part of a Radio 1 week in Edinburgh.
Despite the endorsement of the DJ, however, the Revillos failed to replicate the swift chart breakthrough of the Rezillos and were dropped by Virgin subsidiary DinDisc after just one album. The band continued until the mid-1980s but failed to regain their early momentum.
Festive Fifty Entries
Sessions
Two sessions only. Both released on Wireless Recordings (CD, 1999, Vinyl Japan) and Stratoplay The Box Set (6xCD, Cherry Red, 2020). Fay Fife and Eugene Reynolds also two sessions with Rezillos (1977, 1978).
1. Recorded 1980-03-10. First broadcast 17 March 1980. Repeated 08 April 1980, 24 April 1980, 26 June 1980.
Scuba-Scuba / You Were Meant For Me / Rock-A-Boom / Voodoo
2. Recorded 1981-04-29. First broadcast 13 May 1981. Repeated 17 August 1981, 28 December 1981
Caveman Raveman / She's Fallen In Love With A Monster Man / Snatzo Mobile /Man Attack
Other Shows Played
1979
1980
1981
1982
18 January 1982: Hip City, You Were Meant For Me (single - Bongo Brain b-side) Superville
1983
1984
1997
See Also
External Links
Community content is available under
CC-BY-SA
unless otherwise noted.