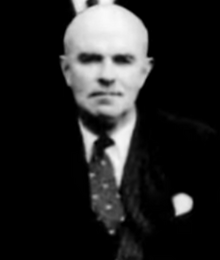 Rev. Richard Hubert John Brooke (6 June 1909 – 3 May 1973) was an English cricketer and clergyman. Brooke was a right-handed batsman who bowled right-arm medium pace. He was born in Eton, Buckinghamshire and was educated at St Edward's School, Oxford, where he played for the school cricket team. Brooke had made his debut for Buckinghamshire in the Minor Counties Championship in 1929 against the Surrey Second XI and later undertook studies at Oxford University. It was for Gloucestershire that he made his first-class debut for, incidentally against Oxford University Cricket Club. Having played against the university in 1931, he proceeded to make 2 appearances for the university in that same season, against the Army and Surrey. He played 11 further first-class matches for the university, all in 1932, with the last of them coming against Cambridge University. During his life, he served as a housemaster at Shrewsbury School for over 30 years, as well as a Rector at Great Canfield, Essex, a position he held from 1969 to his death in 1973.
Links To Peel
Peel attended Shrewsbury School as a boarder between 1952 and 1956 and a big hero in his schooldays was his housemaster, Richard Hubert John Brooke, whom he later described as 'The greatest man I ever knew.' On his school report, Brooke wrote the following:
"Perhaps it's possible that John can form some kind of nightmarish career out of his enthusiasm for unlistenable records and his delight in writing long and facetious essays."[1]
Brooke was wise enough to see that John Ravenscroft, to give him his proper name, was enthused only by one subject - pop music - and he left him to play his records, keep his charts and read his pop magazines to his heart's content - though not always to the pleasure of those in neighbouring studies. Later, Peel's connection with Brooke enabled him to remain on Radio One. As he recounted, in the early years of Peel's Radio One career, when he had been in trouble with his bosses due to a number of controversial remarks, the DJ was interviewed by a BBC superior (possibly the then Radio One controller Douglas Muggeridge, also an old boy of Shrewsbury School)) who mentioned public school education. Peel responded by saying that he too had been educated at a public school - Shrewsbury. His interviewer asked which house Peel had been in, and the DJ told him ("Riggs Hall"), to which the response was "How's Brookie?" Peel said that after this interview, he knew that his future at Radio One was secure.
Peel remained in touch with Shrewsbury and declared his intention of dedicating Margrave Of The Marshes, his autobiography to the memory of Brooke.
External Links
Community content is available under
CC-BY-SA
unless otherwise noted.