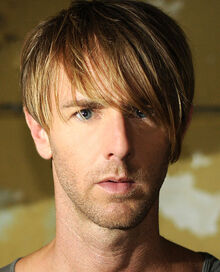 Richard "Richie" Hawtin (born June 4, 1970) is a British-Canadian electronic musician and DJ. A three-time DJ Awards winner, he became involved with Detroit techno's second wave in the early 1990s and has been a leading exponent of minimal techno since the mid-1990s. He became known for his recordings under the Plastikman and F.U.S.E. aliases. Under the latter, he released his debut album Dimension Intrusion (1993) as part of Warp's Artificial Intelligence series.
In May 1990 Hawtin and John Acquaviva founded the Plus 8 record label, which they named after their turntable's pitch adjust function. In 1998, Hawtin launched M-nus Records. In summer 2012 Hawtin first presented ENTER., his experimental event at Space in Ibiza. In 2016, Hawtin launched his own technology company called PLAYdifferently, and released the MODEL 1 mixer, co-designed with Andy Rigby-Jones.
Links to Peel
Peel played many of Richie Hawtin's various alias materials, including when he was in groups, such as the Hard Brothers, where he was working along with his brother, Matthew Hawtin. Hawtin's main recording name, Plastikman, was discovered by Peel when he found his album amongst the large amounts of CD's he was receiving, which he mentioned on his 05 November 1993 show. On the same programme he also played a track from Plastikman called Koma, whose name was also a radio station in America, where Peel used to work in the 60's called KOMA:
"Regular listeners may have heard me whining on from time to time about the CD mountain that's built up at Peel Acres, things which I've not yet had the chance to listen to. I really set about it during the week, smiting it hip and thigh with the jawbone of an ass, and as a consequence have discovered a lot of good stuff in there. A lot of rubbish as well I have to be honest, but some good things, which have probably been around for some time, probably fed up with hearing them on the radio, but they're new to me, so new to this programme as well. In fact here's one now......This is Koma which is the name of the radio station that I used to work for in Oklahoma City, so that seemed to be a kind of sign if ever there was one."
In 1994, Plastikman did a session for Peel's programme (Ken Garner's The Peel Session book lists it under Richie Hawtin's name) and when it was repeated on his 09 June 1995 show, he praised the artist for making the sound not centuries old:
"One of the problems that we have with dance sessions in these programmes is that by the time you get round to rebroadcasting them, because they have such kind of butterfly lives, they sound centuries old, but this isn't the case with Plastikman"
On his 23 September 1999, Peel mentioned Richie Hawtin (aka Plastikman) was allegedly "whipped" at pool by his son William, but this was denied by him. Also Richie Hawtin gave an unknown white label record to Peel that he played on his 02 May 2000 show.
Richie Hawtin has used his own name in some releases and performed several DJ sets for Peel's show. A year after Peel's death, Richie Hawtin's The Tunnel entered at number 50 in the 2005 Festive Fifty.
Festive Fifty Entries
Sessions
Three sessions solo. The first session is only available on Plastikman - Arkives 1993 - 2010
1. Recorded as Plastikman: 1994-07-14. Broadcast: 16 September 1994. Repeated: 09 June 1995
PP 001 / Dubfunk / Helikoptor / Minak
2. Recorded as Richie Hawtin: 2000-04-26. Broadcast: 26 April 2000
3. Recorded as Richie Hawtin: 2004-03-10. Broadcast: 10 March 2004
Richie Hawtin & John Acquaviva
1. Recorded live: 2000-11-07. Broadcast: 07 November 2000
Live
Live from Newcastle Sound City. Broadcast: 29 October 1998
set unknown
Live from the Medicine Bar, Birmingham. Broadcast: 30 October 2001
set unknown
Other Shows Played
F.U.S.E.
Plastikman
Richie Hawtin
13 October 1999: 'Excerpts From Decks, EFX & 909 (Compilation CD-14 Irregular Files - A Mute Accumulation)' (Mute)
UP!
17 April 1993: 'Spiritual High (Various Artists 12 inch - Probe Mission 2)' (Novamute)
Hard Brothers (Matthew Hawtin, Richie Hawtin)
Spawn (Daniel Bell, Fred Giannelli, Richie Hawtin)
External Links
References
↑

John may have the title of this track wrong. He says that it plays from the inside out, and on discogs.com this would be 'Dat Side', which does not contain 'Infiltrator.' Thus, it is probably 'The Thinking Man' or 'Tension.'
Community content is available under
CC-BY-SA
unless otherwise noted.