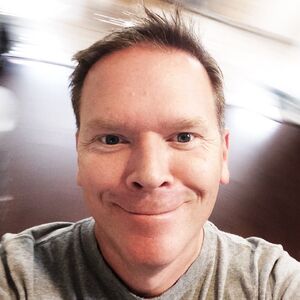 Matt Haines, aka The Rip-Off Artist and Mateo Hernandez, is a former electronic dub artist from Los Angeles, California where he ran his record label Infatabl Labl and lists his previous (spurious) occupations as illegal immigrant, in-demand Nashville country recording session player, political and social activist, offshore oil-rig driller, archeologist, and former drum and bass producer. He also recorded under the aliases Control X, Front BC, Grand Theft Audio, Inflatable DJ, Liqui-Fly, Matt Haines, Mental Blox, Plain Brown Rapper and The Lube. In 2005, he retired from the music business and now makes his living as a fashion photographer.
In addition, the artist appeared to have a quirky sense of humour: several of his releases bear the same names as those by more well-known acts, e.g. In Through The Out Door (Led Zeppelin), Get Yer Ya-Ya's Out (Rolling Stones), and the Kids Are Alright (Who).
Links to Peel
JP played several tracks from Haines' work on their release, but does not seem to have taken a great deal of interest in his music otherwise.
Festive Fifty Entries
Sessions
Other Shows Played
External Links