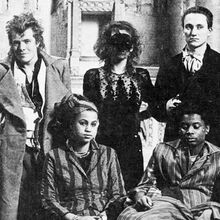 Rip Rig + Panic were an English post-punk band founded in 1980 The band were named after a jazz album of the same name by Roland Kirk. They were formed by Sean Oliver (bass), Mark Springer (piano, sax, vocals), Gareth Sager (guitar, sax, keyboards, vocals) and Bruce Smith (drums, percussion)—the latter two formerly of The Pop Group)—with singer Neneh Cherry. Other members included saxophonist Flash (David Wright), singer Andi Oliver, trumpeter David De Fries, and viola-player Sarah Sarhandi.
The group strayed from more conventional post-punk, mixing avant-garde elements with jazz and led by Cherry's innovative pop/soul singing style. Their second album, I Am Cold, included a number of tracks featuring jazz trumpeter Don Cherry (Neneh Cherry's stepfather). They also appeared with Nico on a BBC Radio session.
In the mid 80's, Rip Rig + Panic split and re-aligned as the smaller Float Up CP and produced the album Kill Me in the Morning, but amicably dissolved shortly thereafter.
Links to Peel
Peel played some of their songs in the early 80's and the band did 2 sessions for his shows, and another one after they became Float Up CP.
Sessions
1. Recorded: 1981-09-14. Broadcast: 21 September 1981. Repeated: 20 October 1981, 28 December 1981
Symphony In Dave's Flat / A Grand Grin And A Shaky Smile Please Mr Barman / Pullover No Sox
2. Recorded: 1982-06-19. Broadcast: 12 July 1982. Repeated: 10 August 1982
What Are The Toads Doing So Far From The Swamp? / Instant Sin Sheds Skin / Blasø
1. Recorded: 1984-09-19. Broadcast: 26 September 1984. Repeated: 04 December 1984
Pray For This / Sexy Bushes / You Make Me Wet
Other Shows Played
Rip Rig + Panic
Float Up CP
External Links
Community content is available under
CC-BY-SA
unless otherwise noted.