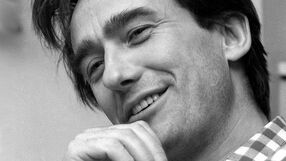 Robert Broberg
(b. 1940) was a Swedish singer, musician and songwriter. He started out his career as a skiffle musician, before going on to write his own songs and becoming one of
Sweden
's best known artists in the 1960s, under the name of Robban Broberg. In the seventies he abandoned his humorous songwriting style to deal with more serious subject matter, and in 1977 went to the US to record an English language album featuring titles such as "There's Absolutely No-One Cuter Than My Little Sweet Computer", "Let Me Touch Your Surface" and "I Wanna Be A Machine". In keeping with his ironic approach, however, the album bore a Swedish title
Tolv Sånger På Amerikanska
, "
Twelve Songs in American
". Broberg released material both in English and Swedish under the name of
Zero
in the early 80s, before returning to write and record in his native language 
as Robert Broberg
 in the nineties and early 2000s. He died in 2015.
Links to Peel
Peel featured Broberg's English language single "I Wanna Be A Machine" which he played initially as a Swedish import then later as its UK release on clear vinyl. (The title of the song may or may not be connected with the track of a similar name 'I Want to Be a Machine' released by Ultravox! on their debut album in 1977). Peel also later played 'Ton Top', a single recorded by Broberg under the name of Zero, although it's unknown whether he knew at any point that they were one and the same artist. A further play of the latter on a BFBS show in 1995 was due to a request by a listener from Bochum. Peel described it as "one of those amusing records it's useful to hear every 10 years".
Shows played
as Zero
External links
Community content is available under
CC-BY-SA
unless otherwise noted.