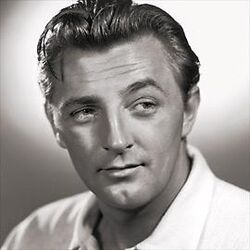 Robert Charles Durman Mitchum
(1917-1997) was a popular and highly regarded actor who portrayed a wide variety of roles. Those films for which he is most famous utilise his sleepy-eyed hangdog look to create an atmosphere of menace, such as Jeff Markham in
Out Of The Past
(1947), Reverend Harry Powell in
Night Of The Hunter
(1955) and Max Cady in
Cape Fear
(1962). Mitchum had a reputation as a hard-drinking prankster and spent time in prison for possession of marijuana.
Aside from this, he also had a second string to his bow as a singer and even co-composer of an oratorio. While other actors had voice doubles when their characters were required to sing in films, Mitchum did his own singing, and recorded an album of calypso music, Calypso - Is Like So... (1957) while filming on Tobago in the Caribbean. He had met Mighty Sparrow and Lord Invader and developed a liking for the music, to the extent that the songs employed some of the local slang inflections. Peel was sent a copy by a listener in 1987 and by his own admission played it extensively. Mitchum did not record another LP until 1967, when That Man, Robert Mitchum, Sings, an album of country songs, gave him a fair-sized hit in Little Old Wine Drinker Me. As if to endorse the actor's reputation, JP played a song by April March titled Stay Away From Robert Mitchum [1].
Festive Fifty Entries
Sessions
Other Shows Played
1987
External Links
Community content is available under
CC-BY-SA
unless otherwise noted.