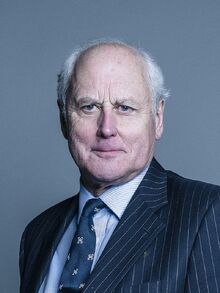 Robin Granville Hodgson, Baron Hodgson of Astley Abbotts, CBE (born 25 April 1942, Leamington Spa) is a British Conservative Party politician and life peer. Educated at Shrewsbury School, went on to run in both 1974 general elections, and unsuccessfully contested the strong Labour seat of Walsall North against the incumbent, John Stonehouse. But in the 1976 by-election caused by the imprisoned Stonehouse's resignation, Hodgson managed to overturn the large Labour majority to become the Member of Parliament in the House Of Commons.
However, in the 1979 general election, he could not hold the seat against the Labour candidate David Winnick, despite achieving an 11% swing. In 1981 he was selected as candidate for the safe Conservative seat of Stratford-upon-Avon, but resigned his candidature in 1982 for undisclosed personal reasons, and never returned to the Commons.
He was awarded a CBE in the 1992 New Year's Honours and served as Chairman of the National Union of Conservative Associations from 1996–98, and as Chairman of the National Conservative Convention from 1998-2000. He was created a life peer, as Baron Hodgson of Astley Abbotts, of Nash in the County of Shropshire on 7 June 2000. With a scheduled publication date for 2012, Hodgson was appointed by David Cameron's Government to perform a wholesale review of the Charities Act. In 1982 Hodgson married Fiona Ferelith Allom, who was created Baroness Hodgson of Abinger in 2013.
Links to Peel
In 1977, whilst Peel was doing his radio roadshow in Norwich, a young spectator with friends threw a dead pheasant, which hit JP's testicles. This incident was mentioned by Peel in Sounds (later republished in Olivetti Chronicles, Corgi edition, page 121), where he chased the accused and scolded him for his actions. A week later he received a call from the local Walsall paper asking for his comments on the accused accusing him of attacking him. This led to Robin Hodgson, a member of Parliament for the Walsall constituency where the accused lived, to write a letter to Peel asking for an explanation of the incident. Peel commented that the MP, who went to the same school (Shrewsbury School) as him, wrote that I fairly laid into the students, describing them as morons. He responded to the letter in the article saying that morons would be the only word in the entire vocabulary of popular abuse that I would not have used. Arseholes, for example, yes; morons no.
The dead pheasant incident didn't seem to involve the police and no further actions took place.
External Links