(This page covers the career of the former controller of BBC Radio One. For the English musician Robin Scott, also known as M, see Robin Scott.)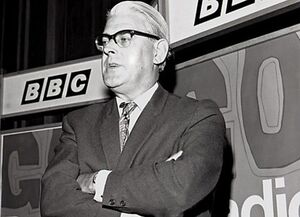 Robin Hugh Scutt (24 October 1920 – 7 February 2000), better known as Robin Scott, was a British broadcasting executive. He was the launch controller of BBC Radio 1 in 1967, and controller of BBC2 television from 1969 to 1974. Born Robin Hugh Scutt, he was educated at Bryanston School and read modern languages at Jesus College, Cambridge before joining the Intelligence Corps. He was discharged through illness in 1942, and joined the BBC. While in the BBC's French Service he commented on major events, including VE Day and VJ Day. During this time he changed his name to Scott, because his French contacts found his original name difficult to say. He moved into television in the late 1950s, and produced programmes including Miss World, Come Dancing and It's a Knockout.
During this time he wrote the song "Softly, Softly", a British number one hit for Ruby Murray. Scott moved to the BBC Paris bureau in 1958, and was seconded to Trans-Europe Television between 1964 and 1966. He was appointed Controller of the Light Programme in March 1967, and devised a format for the corporation's new popular music station. His vision deliberately echoed the pirate radio broadcasters that would be outlawed by the Marine Broadcast Offences Act in August 1967. The new pop station, BBC Radio 1, launched on 30 September 1967, with a signature tune commissioned by Scott, Theme One, recorded by George Martin. He was also Controller of BBC Radio 2, the successor to the Light Programme. (read more on wikipedia)
Links to Peel
According to Ken Garner's article [1], Robin Scott first heard of Peel when he spent long nights over the summer of 1967 listening to tapes in his office of all the pirate DJs. He had already made up his mind he wanted Peel on the new radio station, Radio One. What he and Bernie Andrews saw in Peel were two different qualities, represented at first separately by the two shows he presented in Radio 1's early years: Top Gear on Sunday afternoons; and the after-midnight Night Ride, which Peel started hosting on Wednesdays from March 1968 – but only after a direct intervention from Scott over-ruling his departmental managers and approving a pilot made by producer John Muir.
Bernie wanted Peel for his rebellious streak, his expertise, understanding and enthusiasm for the latest, most experimental pop and psychedelic sounds. Scott, having listened to Peel's infamous free-form Perfumed Garden show on Radio London during the Summer of Love, heard his potential as an unusual, relaxed, late-night voice in the dark. But it was precisely these qualities that in the eyes of most BBC executives at the time made Peel unemployable.
Radio 1 DJs were not expected to have any say over the choice of music, that being chosen by the producer, shaped in the daytime by the new Radio 1 playlist. BBC studios were traditionally not even set up to allow DJs to control the turntables. Only after major disagreements was Robin Scott permitted to install one "self-op" studio in Broadcasting House by launch date, where the daytime ex-pirate DJs could control the mix between their voice and the disks.
Peel's short-lived Night Ride became emblematic of the counter-culture era, with its guests and their – for the establishment – sometimes shocking statements. Robin Scott recalled being instructed by Lord Hill, new chairman of the BBC governors, to take Peel to an official dressing-down by Sir David Hunt, the High Commissioner for Nigeria, after the satirist John Wells had criticised Prime Minister Harold Wilson's policy on the Biafran war – an experience that shook them both, and doubtless cemented Scott and Peel's lifelong friendship.
External Links
Community content is available under
CC-BY-SA
unless otherwise noted.