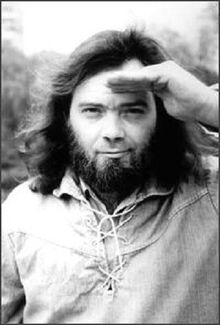 Roger Kynard "Roky" Erickson (July 15, 1947 – May 31, 2019) was an American singer-songwriter, harmonica player, and guitarist from Texas. He was a founding member of The 13th Floor Elevators and a pioneer of the psychedelic rock genre. Erickson co-founded the 13th Floor Elevators in late 1965. He and bandmate Tommy Hall were the main songwriters. Early in her career, singer Janis Joplin considered joining the Elevators, but Family Dog's Chet Helms persuaded her to go to San Francisco instead, where she found major fame. (read more on wikipedia)
Links to Peel
Peel knew of Erickson's band, The 13th Floor Elevators, who were one of the pioneers of psychedelic rock, which he used to play quite often on his shows. He took also interest in Roky Erickson's solo career, especially in the 80's, when he was in the band Roky Erickson & The Aliens. In 1991, Peel played some tracks from artists covering Erickson's songs, following the release of the tribute covers compilation "Where The Pyramid Meets The Eye", highlighting the musician's continuing influence.
Shows Played
1981
1985
1986
08 September 1986: The Beast (12" - Roky Erickson And Evil Hook Wildlife ET.) One Big Guitar
1994
2002
Covered
(The list below was compiled only from the Cover Versions page of this site. Please add more information if known.)
Artist | Track | First Known Play
External Links
Community content is available under
CC-BY-SA
unless otherwise noted.