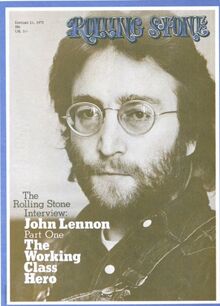 Rolling Stone is a U.S.-based fortnightly magazine devoted to music, liberal politics and popular culture. It was founded in San Francisco in 1967 by Jann Wenner (who remained editor and publisher until the magazine was put up for sale in 2017) and music critic Ralph J. Gleason. It was the most influential music magazine of the late 1960s and early 1970s, gaining a loyal readership by reporting on the hippy-oriented youth culture of the era, but keeping music and the music industry as its main concern. The magazine was often bracketed with the underground press, because of its San Francisco origins as well as its contents, but was more professionally edited and produced than the often chaotic hippy newspapers; it delighted musicians and fans alike by taking the music (which it referred to as "rock and roll", to the bemusement of British readers who associated the term with the 1950s rather than the pop or beat music of the 1960s) more seriously than the US fan magazines or the British pop weeklies had done, with long interviews, feature articles and an extensive record review section. Despite occasional charges of pomposity and long-windedness - in an article on Soft Machine in Friends (16 July 1970, pp. 14-15), Robert Wyatt was quoted as saying that Rolling Stone's writers were "thirty years old and trying to convince themselves and others that the rubbish they listened to when they were younger was worthwhile" - the magazine established a model of in-depth coverage which was later taken up by publications as varied as Zigzag and Mojo
By late 1968 Rolling Stone was distributed in the UK, on sale in the same outlets as the British underground press and finding a keen readership. Jann Wenner was encouraged by this to launch a British edtion in the summer of 1969, with financial help from the Rolling Stones. He gave an interview to Oz magazine in which he stated "We're out to replace Melody Maker and all these shitty music publications. There's nothing to read around today." [[1]] MM's singles reviewer and resident joker Chris Welch reacted scornfully to this, referring in his column to "Rumbling Stomach magazine" and its arrogant editor.
The venture failed because the journalists recruited for the new paper were sympathetic to the British underground and unwilling to submit to the close editorial control Wenner demanded. (They were fired and Wenner closed the London office, but survivors of the experience brought out the underground paper Friends). The incident illustrated a growing mistrust between the more radical elements of the underground and the unabashedly businesslike Wenner, but Rolling Stone continued to gather new readers and contributors, gradually extending its range to cover American society and politics as well as "rock and roll" and other aspects of the entertainment industry, such as film. During the 1970s it evolved into a more mainstream magazine, shedding its underground origins and eventually leaving San Francisco for New York. In subsequent decades it had ups and downs and changes of style but remained a commercially successful publication. Rolling Stone has once again won acclaim for its investigative reporting in recent years, but in the field of politics rather than music.
A longer account of Rolling Stone's history can be found at Wikipedia
Links to Peel
(Traffic's) "'Dear Mr. Fantasy' is already being played on the new BBC pop radio by John Reel, about the grooviest jockey you'll find this side of the Atlantic".... Melody Maker journalist Nick Jones, from his London column in Rolling Stone 3 (Dec. 14, 1967)
"When Uncle Seabird wrote for Rolling Stone/ A generation felt much less alone" (Clive James, from the James/Atkin song "Uncle Sea Bird", played as a Pete Atkin session track on the John Peel Show of 9 October 1975)
The reference in Clive James's witty lyric to Rolling Stone shows the importance of the magazine to its readership [1]. It propagated the ideas of the San Francisco hippy era, some of which were of particular interest to Peel. As a DJ he was interested in both the record reviews (he was at the time a regular buyer of US import LPs) and the reports on the evolution of American FM rock radio and its struggles to break free from the chart-based formats favoured by many radio station owners and programme directors. In its early days Rolling Stone also lent its support to artists, like the Beatles, Jefferson Airplane and Grateful Dead, who were attempting to take control of their own careers and become independent of conventional record companies, artist managers and booking agencies. A similar idea lay behind Peel's own Dandelion record label and Peel was interviewed by Rolling Stone[2] six months after the label was launched.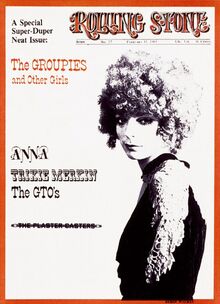 On the Top Gear of 16 February 1969 Peel mentioned that he'd been reading the latest issue of Rolling Stone and had appreciated its coverage of the groupie scene in the US; this "special issue" of the magazine created a scandal. It is not known whether Peel attended the notorious 1969 reception at which British Rolling Stone attempted to solicit record company advertising, but close friends Marc Bolan, his wife June and the DJ Jeff Dexter did. The food and drink at the event were spiked with LSD, allegedly by underground activists opposed to Rolling Stone's business ethos; Bolan, usually wary of "acid", experienced a classic "bad trip", and, as June Bolan recounted in detail in Jonathon Green's Days In The Life (pp.307-8), she and Dexter had to nurse him through it. In Margrave of the Marshes (p.173) Sheila Ravenscroft describes how, a few months later, Peel suffered a similar experience after eating an ice-cream laced with LSD while hosting a Roundhouse gig.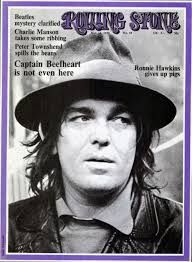 For its first two or three years, Rolling Stone covered a variety of underground-related topics, although as mentioned above, it wasn't an underground paper as such. The artists it favoured tended to be commercially successful, so when Peel's hero Captain Beefheart made the cover of a 1970 issue, this was something of a surprise, as Beefheart was still relatively obscure in the USA.
Issue no.75 of Rolling Stone, with a cover dated 4 February 1970 but actually 4 February 1971[2], carried a feature on Peel as well as on the London underground scene[3], although its cover story was the second part of a long interview by Jann Wenner with John Lennon, in which Lennon was critical of his time with the Beatles. It was later published as a book, Lennon Remembers.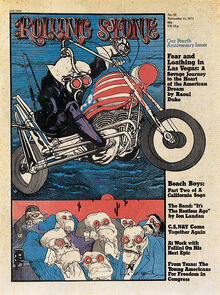 Peel never wrote for Rolling Stone but did refer to it occasionally on Top Gear and elsewhere. He played an obscure American single, "1862 B.P." by The Reverend Ether, the Kingdom, the Power and the Glory[4] on the Top Gear of 05 December 1970, saying that he became aware of the record when it was "reviewed ecstatically in Rolling Stone". Writing in Let It Rock magazine in 1973, he chose as best rock writer "Hunter S. Thompson (if he counts).". Indeed Thompson wasn't a music writer but the founder of "gonzo journalism" who gained fame with his writings in Rolling Stone on US politics and society from his own slightly skewed perspective - notably his cult book Fear And Loathing In Las Vegas, which was serialised in RS before its publication.
In an end-of-year review of 1975 written for The Listener and reprinted in The Olivetti Chronicles (p.177) he regrets that the "usually responsible Rolling Stone" had hailed Bruce Springsteen as "the future of rock'n'roll" (the comment was made by the magazine's Jon Landau, a writer who was sometimes accused of pomposity) when in fact he was, according to Peel, "an enjoyable supper-club pastiche of rock's brief history".
After the mid-1970s Rolling Stone lost much of its influence in the UK, as the hippy movement went into decline and the music it had championed began to lose its relevance for British audiences. The magazine's mix of music, politics and culture remained popular in the US, but British readers turned to the likes of the NME for reports on the local music scene, which was developing in a different direction from its American equivalent. Peel seldom appeared in the pages of Rolling Stone thereafter, although the magazine's online edition search lists an article on him from 1993 and an obituary from 2004.
External Links
References