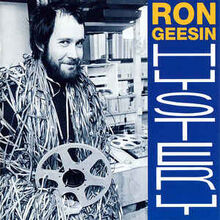 Ronald Frederick Geesin (born 17 December 1943, in Stevenston, Ayrshire, Scotland) is a polymath of musician, composer, noted for his very unusual creations and novel applications of sound. Ron Geesin started his career from 1961 to 1965 as pianist with The Original Downtown Syncopators (ODS), a revivalist jazz band emulating the American Original Dixieland Jazz Band. The band was based in Crawley, Sussex, UK. Geesin is well known for his collaborations with Pink Floyd and Roger Waters. After the band found themselves hopelessly deadlocked over how to complete the title track from Atom Heart Mother in 1970, he worked with Pink Floyd as an orchestrator and organizer, and he also wrote the brass introduction. Geesin also collaborated with the band's Roger Waters (the two men shared a love of golf) on the unconventional film soundtrack Music from "The Body" (1970), sampling sounds made by the human body.
After his first solo album, A Raise of Eyebrows, in 1967, Geesin launched one of the first one-man record companies, Headscope, with the self-released As He Stands, Patruns, and Right Through. In 1971 he produced the pastoral Songs for the Gentle Man by Bridget St John....(read more at Wikipedia)
Links to Peel
Ron Geesin came to Peel's attention in 1968, after his first LP had been released by Transatlantic Records, a label usually associated with folk artists such as Pentangle, Bert Jansch, and John Renbourn. It was the label's first stereo LP and its "electro-melodic sound painting", with Geesin using the resources of the recording studio, multi-tracking, improvising, and playing a wide range of instruments, didn't make much impression commercially. However, Peel was intrigued enough to have Geesin record a session for the Night Ride of 03 July 1968. It was the first of seven sessions for Peel between 1968 and 1976, and in addition to these Ron Geesin also appeared on Night Ride as a poet (on 14 August 1968) and as a studio guest on the programme.
Ron Geesin also collaborated with a number of artists associated with Peel, producing the Bridget St. John album mentioned above, arranging many of the tracks and playing guitar and organ on some of them. He also played piano on one track of another Dandelion Records LP, The Year Of The Great Leap Sideways by the Occasional Word Ensemble, and contributed to the 1970 LP Happy Birthday Meher Baba, an album dedicated to the Indian mystic who was revered at the time by Pete Townshend of the Who and Ronnie Lane of the Faces. He also appears on the rare 1969 BBC Records LP John Peel Presents Top Gear, with tracks under his own name, but doesn't seem to feature so much on Peel shows after his final session in 1976.
In The Peel Sessions (pg 69), Ken Garner quotes producer John Walters on Geesin's unorthodox working methods during the recording of the session used on the Top Gear LP:
"Ron had a thing in that session where, to get something delayed, or echoed, we had to run the tape across all the heads of four tape recorders, and the tape ran like a washing line all round the control room."[1]
Ron Geesin's other work for the BBC includes sessions for Bob Harris's Sounds Of The Seventies shows, appearances on the Radio 4 series If It's Wednesday It Must Be..., ("a new midweek medley of music, humour and comment") alongside other Peel favourites such as Kenny Everett, Vivian Stanshall and Ivor Cutler, and Radio 3 series devoted to jazz musicians Coleman Hawkins and James P. Johnson. A full list can be found at BBC Genome.  
Festive Fifty Entries
Sessions
Seven sessions. #1, #2, #3 available on Biting The Hand (2xCD, Hux, 2008). #3 also available on John Peel Presents Top Gear (v/a LP, BBC,1969).
1. Recorded 1968-06-06. First broadcast: 03 July 1968.
Pretty Little Faces / Off The Left Cuff / Yesterday's Sheep / Very Nostalgic Piece / Devised Now
2. Recorded 1969-04-01. First broadcast: 09 April 1969.
The First Piece / John's Title / 3/4" Plywood Cover For Voice / Out Of Your Tune / Virtuoso Piece For Banjo
3. Recorded 1969-07-16. First broadcast: 11 October 1969. Repeated 24 January 1970.
Agitation In Anticipation Of Offspring, Parts W, X & Y
4. Recording date unknown, own studio. First broadcast: 16 September 1971.
Twist And Knit For Two Guitars / Duet For Two And Street Market / Wrap A Keyboard Round A Plant / The Middle Of Whose Night / Duet For One String Banjo And Water Cistern
5. Recording date unknown, own studio. First broadcast: 06 March 1973. Repeated 01 May 1973.
Geesin's 6/8Ths / Roll 'Em Bowl 'Em / On Through Out Up / Mr. Peugeot's Trot / Upon Composition
6. Recording date unknown, own studio. First broadcast: 19 September 1974.
For Sale / Where The Daffodils Do Thrive (Two Part Beneficial Flop) / Two Travel Moments / Paddling Steamers Across High Teacups / Nuts Bolts Several Guitars / Animal Autos / Evaporated Ballroom / Jagged Prance / Brain Twirl
7. Recording date unknown, own studio. First broadcast: 20 February 1976.
Ab Db & Gb Black Major Throb / White Note Of Calm / Romanian Ragtime Strut / Smoked Hips / Tomorrow's People On The Move Today (From Ballet Music For 'Spaceship Earth')
Other Shows Played
See Also
External Links
Community content is available under
CC-BY-SA
unless otherwise noted.