Ron Johnson Records was a UK independent record label based in Long Eaton operating between 1983 and 1988. The label contributed five tracks to the NME's C86 compilation.[1] Run by Dave Parsons, the label released records by artists such as Big Flame, Shrubs, A Witness, Great Leap Forward, Stump, Mackenzies, Twang and Ex. Despite the press attention and critical acclaim for the label's bands and releases, sales were insufficient to make the label profitable and financial difficulties brought it to an end in 1988.
(Read more at Wikipedia.)
Links To Peel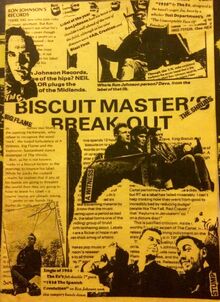 Peel was a huge supporter of the tiny Nottingham label run through the mid-1980s by Dave Parsons, who was also working shifts in a local biscuit factory. The label, which put out 34 records,[1] is often linked to the "shambling" indie sub-genre named by the DJ.[2]
Ten of the 12 bands released by Ron Johnson Records had sessions for the Peel show, with the only exceptions being US noise combo the Sewer Zombies and Parsons' own outfit, Splat!, whose debut release was the first on the label and received airtime from the DJ.[3] Peel's best-of-year Festive Fifty Session Broadcasts included Ron Johnson bands in 1986 (Big Flame, Stump and Twang), 1987 (Great Leap Forward) and 1988 (A Witness).
In a personal celebration of Peel for the Louder Than War website in 2011, Parsons recalled meeting the DJ on many occasions, with the two sharing the same birthday (although born in different years), Peel returning his fee for Ron Johnson tour gigs, travelling together to Germany, visiting Peel Acres, and especially the "solid concrete impact" of the DJ's championing of his label:
"Without his support, those six or so years of indie industriousness would never have been the same, or, possibly/probably, even possible."[4]
Sessions
Bands released by Ron Johnson Records who did sessions for Peel, including when bands were on other labels.
A Witness: (4 sessions, 1986-88)
Big Flame: (4 sessions, 1984-86)
Ex: (3 sessions, 1983-86)
Great Leap Forward: (2 sessions, 1987-88)
Jackdaw With Crowbar: (2 sessions, 1987)
Mackenzies: (2 sessions, 1986)
Noseflutes: (4 sessions, 1985-89)
Shrubs: (2 sessions, 1986-87)
Stump: (4 sessions, 1986-88)
Twang: (3 sessions, 1986-88)
Festive Fifty
No entries in the annual top 50 selected by Peel listeners.
In the extended 1985 Festive Fifty, which covered the top 70 songs, Big Flame placed #58 with "All The Irish (Must Go To Heaven)", released on Ron Johnson.[5]
Compilations

Plays by Peel of various artists (v/a) releases on Ron Johnson Records. Please add more information if known.
(v/a LP - The First After Epiphany) Ron Johnson
Links
References
Community content is available under
CC-BY-SA
unless otherwise noted.