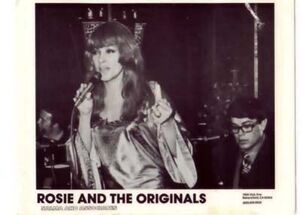 Rosie And The Originals were an American 1960's group fronted by lead singer Rosie Hamlin (21 July 1945 - 30 March 2017), the group produced two singles (including "Angel Baby") for Highland Records and, like many other artists of the era, ended up in protracted legal battles with their record label over royalties and credits. The group formed in 1960 and split in 1963, returning to record singles in 1969 and again in 1973, performing occasionally throughout the 1970s and 1980s and more regularly throughout the 1990s and 2000s.
Links To Peel
Peel mentioned on his 22 October 1995 (BFBS) show that 'Give Me Love' was one of the great records of all time after playing an artist from a compilation album that featured them:
"There's another one on there by Rosie And The Originals, which is a fine record, but the B-side of it, the name of which escapes me now, one of the great records of all time. It's very very sparse, a throwaway kind of item, and if you'll forgive me for cosmic name-dropping, I was once talking, obviously many years ago, about records to John Lennon. I mentioned that and he said, "Yes! What a wonderful record it was!" And he obviously thought that he and I were the only people in the entire world that knew about it, and I gave him my copy of it, which is on Highland Records: Highland 1011 the catalogue number....A nice gift for a nice man.'
After playing the song, he proclaimed that it was one of the great non-guitar solos of all-time:
"One of the great non-guitar solos of all-time. It really did sound as though they were making it up as they went along, which is just fine by me.'
Shows Played
1972
1993
1995
1999
2000
External Links
Community content is available under
CC-BY-SA
unless otherwise noted.