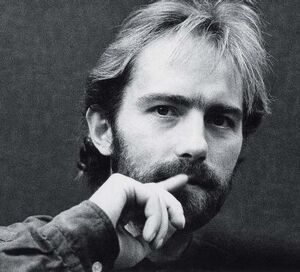 Roy Harper (born 12 June 1941) is an English folk/rock singer, songwriter and guitarist who has been a professional musician since 1964. He has released 22 studio albums and 10 live albums.
Musically, American blues musician Lead Belly and folk singer Woody Guthrie were his earliest influences, and, in his teens, jazz musician Miles Davis. Harper was also exposed to classical music in his childhood and has pointed to the influence of Jean Sibelius's Karelia Suite. Lyrical influences include the 19th century Romantics, especially Shelley, and Keats's poem "Endymion". Harper has also cited the Beat poets as being highly influential, particularly Jack Kerouac. As a musician, Harper is known for his distinctive fingerstyle playing and lengthy, lyrical, complex compositions, a result of his love of jazz and Keats.
His influence has been acknowledged by many musicians including Jimmy Page and Robert Plant of Led Zeppelin, who named the song "Hats Off to (Roy) Harper" after him, Pete Townshend of the Who, Kate Bush, Pink Floyd, who agreed for him to sing guest lead vocals on their song "Have a Cigar", and Ian Anderson of Jethro Tull....(read more at Wikipedia)
Links to Peel
Roy Harper was regularly heard on John Peel's programmes for more than a decade, beginning in 1967, when Peel obtained a copy of the singer's first LP, "Sophisticated Beggar" and featured it on the Perfumed Garden. As the album was a rarity at the time due to the fact that the Strike label, on which it was released, had gone bankrupt, it is likely that Peel was playing a copy supplied by a listener (he also played tracks from rare 1966 albums by Jackson C. Frank and Shawn Phillips on the programme, possibly sent in by the same fan). As well as playing Harper's first single for the CBS label on Top Gear, he recommended it, and Harper, to his readers in the 27 October 1967 issue of International Times:
Something in the area of 150 hapless minstrels have been strangled as a result of being called "The British Bob Dylan" - however Roy Harper will survive this handicap. His first CBS record, "Midspring Dithering", is very good....[1]
The DJ also featured tracks from the 1968 CBS album Come Out Fighting Ghengis Smith" and the 1969 Liberty LP Folkjokeopus in his playlists. Harper's first Top Gear session went out in October 1967 and another followed in March 1968.
By 1970 Harper was firmly established as an underground favourite, playing rock clubs, festivals and free concerts, and enjoying the appreciation of influential peers. He signed to EMI's Harvest label, and during the 1970s recorded a series of LPs which Peel played, as well as regularly featuring the singer in session and in concert. Harper was known for being a temperamental performer who would on occasions harangue the audience and on one 1971 In Concert show began to criticise the government and the BBC rather than continuing with his set. Peel responded by reminding Harper that without "the machine", neither of them would be on the air.[1]
When An Old Cricketer Leaves The Crease, from Harper's 1975 LP "HQ" was highly praised by Peel, who also regularly claimed that the song had been earmarked by producer John Walters to be played at the DJ's funeral. In the event, however, it was Peel who played it on his show of 31 July 2001 in memory of Walters, before it was indeed used as part of Peel's own funeral service, on 12 November 2004. In 2004, it was also played on air as a tribute to Peel by a number of other DJs, including Rob Da Bank, Bob Harris and Andy Kershaw.
Harper was more successful than many of his contemporaries in continuing his career into the 1980s and 1990s, and has influenced many 21st century folk-inspired performers, but apart from "...Old Cricketer..." his work scarcely appeared in Peel's playlists after 1980. 
Festive Fifty Entries
Sessions
Ten sessions. #6 was selected among the Peel Sessions: The Best 125. Official releases:
- Tracks from #3 and #4 on Come Out Fighting Ghengis Smith CD reissue, 1991 (Science Friction HUCD006)
- Sessions #3 and #4 on The BBC Tapes - Volume I - 1969-1973 CD, 1997 (Science Friction HUCD 022)
- Sessions #6 and #7 on The BBC Tapes - Volume III – 1974 CD, 1997 (Science Friction HUCD 024)
- Sessions #8, #9 and #10 on The BBC Tapes - Volume V - 1975-1978 CD, 1997 (Science Friction HUCD 026)
1. Recorded 1967-10-16. First broadcast 29 October 1967. Repeated
Forever / Zengem / Midspring Dithering / Nobody's Got Any Money
2. Recorded 1968-03-13. First broadcast 17 March 1968. Repeated 12 May 1968.
Life Goes By / A Beautiful Rambling Mess / Night Fighter Song Writer / All You Need Is
3. Recorded 1969-06-03. First broadcast 08 June 1969. Repeated 27 July 1969.
Hey Francesca / Hell's Angels / She's The One / I Hate The White Man / It's Tomorrow And Today Is Yesterday
4. Recorded 1969-12-15. First broadcast 03 January 1970. Repeated 09 May 1970.
Forever / I Hate The White Man / North Country Girl / Don't You Grieve
5. Recorded 1971-05-10. First broadcast 15 May 1971. Repeated
One Man Rock And Roll Band / Same Old Road / Kangaroo Blues
6. Recorded 1974-03-11. First broadcast 19 March 1974. Repeated: 21 July 1977
Too Many Movies / Commune / Forever / Highway Blues / I'll See You Again / North Country
7. Recorded 1974-12-05. First broadcast 12 December 1974. Repeated
Too Many Movies / Home / Highway Blues / 12 Hours Of Sunset / One Man Rock And Roll Band
8 Recorded 1975-06-10. First broadcast 23 June 1975. Repeated
Referendum / Hallucinating Light / The Spirit Lives
9. Recorded 1977-02-14. First broadcast 18 February 1977. Repeated
Another Day / Cherishing The Lonesome / These Last Days / Grown Ups Are Just Silly Children
10. Recorded 1978-08-07. First broadcast 21 August 1978. Repeated
The Same Old Rock / Forget Me Not / I Hate The White Man
Live
06 June 1971: Concert show. Recording date and venue unknown.
Hors D'Oeuvres
One Man Rock And Roll Band
Same Old Rock
Kangaroo Blues
Other Shows Played
(The list below was compiled only from the database of this site and Lorcan's Tracklistings Archive. Please add more information if known.)
1967
07 August 1967: October 12th (LP: Sophisticated Beggar) Strike
14 August 1967: Sophisticated Beggar (LP - Sophisticated Beggar) Strike (JP: "That's Roy Harper and the thing called Sophisticated Beggar, the title song of his LP on Strike, which is no longer available.")
1968
1969
1975
1976
24 December 1976: When An Old Cricketer Leaves The Crease (LP – HQ) Harvest FF#45
1977
1978
1980
2001
31 July 2001: (JP: "I have to say that I always expected that John Walters, despite his illness, to outlive me because he was absolutely determined be at my funeral in order to deliver the eulogy which would have been enormously long, very funny and I suspect would have reflected a great deal of credit on him and not nearly so much on me. One of the things that he was determined to do was to play, at some stage of the ceremony, Roy Harper's "When an Old Cricketer Leaves the Crease". I'm sorry that you didn't have the much longer innings you deserved, old pal.")
When An Old Cricketer Leaves The Crease (LP-HQ) (Harvest)
Post-Peel
31 October 2004 (Andy Kershaw): (AK: "Another email here...'Andy, years ago John used to say that when he finally slumped over the turntables, he had issued instructions to John Walters to come in an open his show with 'An Old Cricketer Leaves The Crease' by Roy Harper. Since old Walters made it to the pavilion ahead of him and I doubt anyone at Radio One has been there long enough to remember, you're the only one there left to do it for him.' We shall here that in just a second.")
When An Old Cricketer Leaves the Crease
11 November 2004 (Rob Da Bank): When An Old Cricketer Leaves The Crease (Science Friction Records)
See Also
References
↑ Michael Heatley, John Peel: A Life In Music, Michael O'Mara Books, 2004. Presumably the In Concert show was the one broadcast on 06 June 1971.
External Links
Community content is available under
CC-BY-SA
unless otherwise noted.