SPK[1] were an Australian industrial music and noise music group formed in 1978. They were fronted by mainstay member, Graeme Revell on keyboards and percussion. In 1980 the group travelled to the United Kingdom where they issued their debut album, Information Overload Unit. In 1983 Chinese born Sinan Leong joined on lead vocals. The group disbanded in 1988. Two years later Revell and Leong relocated to the United States, where Revell works as a Hollywood film score composer. According to Australian rock music historian Ian McFarlane, SPK were "at the forefront of the local post-punk, electronic/experimental movement of the late 1970s ... [their] music progressed from discordant, industrial-strength metal noise to sophisticated and restrained dance-rock with strange attributes".
Links to Peel
A supporter of the group's work in the early/mid 80's, Peel played their debut single Factory in 1980 and continued supporting them especially their Leichenschrei album and other material. In an interview with New Zealand's Rip It Up music magazine, published in November 1984, Graeme Revell acknowledged Peel in supporting them, but also criticised the state of music in the UK, whilst the band were based there:
"It's getting to the stage where we decide to just come on like a really boring pop band like everybody else or we leave England. The situation's getting quite boring in England anyway, the music scene's in a pathetic state. About half a dozen middle aged producers run the entire cultural output for the nation. People like John Peel who's the one hope over here - he's been cut back to three hours a week and on BBC TV you can't get any slightly hard videos shown, all they want is Wham. One producer wouldn't play our new single 'Junk Funk' because he thought the title was something to do with heroin! It's laughable but it stops you from doing anything." [1]
Festive Fifty Entries
Sessions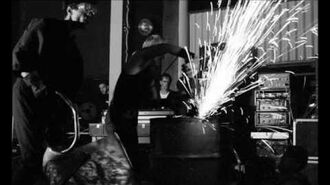 1 . Recorded: 1983-08-20. Broadcast: 31 August 1983. Repeated: 19 September 1983, 08 November 1983, 19 March 1985
Metal Dance / The Sandstorm Method / Metal Field / Will To Power
Live
Live at the ICA Rock Week. Recorded: 1984-10-04. Broadcast: 19 November 1984
Junk Funk (Instrumental)
Will To Power
Other Shows Played
1982
1983
1984
External Links
References
↑

The meaning of the SPK abbreviation is deliberately unclear; the album covers suggest several different alternatives. The most well known is Sozialistisches PatientenKollektiv, but there are also others, such as Surgical Penis Klinik, Suave Poronga Kinoto, System Planning Korporation, SePuKku, Selective Pornography Kontrol, Special Programming Korps and SoliPsiK.
Community content is available under
CC-BY-SA
unless otherwise noted.