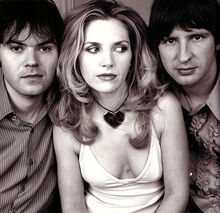 Saint Etienne are an English band from London, formed in 1990. The band consists of Sarah Cracknell, Bob Stanley and Pete Wiggs. They became associated with the UK's indie dance scene in the 1990s, beginning with the release of their debut album Foxbase Alpha in 1991. Their work has been described as uniting 1990s club culture with 1960s pop and other disparate influences. The name of the band come from the French football club of AS Saint-Étienne. Bob Stanley and Pete Wiggs were childhood friends and former music journalists. They originally planned that Saint Etienne would use a variety of different lead singers, and their 1991 debut album, Foxbase Alpha – influenced by sources such as club culture, 1960s pop, and OMD's Dazzle Ships – features several vocalists, including Moira Lambert and Donna Savage. However, after working with Sarah Cracknell on "Nothing Can Stop Us", they decided to make her the permanent vocalist, and Cracknell has written or co-written many of the band's songs.
Links to Peel
Peel played the band's early singles in 1990 and also had a copy of their debut album, Foxbase Alpha, released in 1991, in his record collection. According to available playlists, however, he didn't play any tracks from this, apart from their cover of Neil Young's Only Love Can Break Your Heart, which was released a year before as a single.
In 1993, whilst presenting shows for Jakki Brambles, when she was on holiday, he admitted liking the group's You're In A Bad Way track, which became a UK top 20 hit single, although he never played it on his own shows.
Saint Etienne's Bob Stanley has regularly mentioned Peel in his work as a music journalist, including several times in his book Yeah Yeah Yeah: The Story of Modern Pop (Faber & Faber, 2014), where the DJ's Radio One show is described as a "totem for the punk generation".[1] [2]
Shows Played
06 June 1990: Only Love Can Break Your Heart (12") Heavenly
03 July 1990: Only Love Can Break Your Heart (A Mix Of Two Halves) (12" - Only Love Can Break Your Heart (Remix)) Heavenly
14 October 1990: Kiss And Make Up (12") Heavenly
1993
External Links
Community content is available under
CC-BY-SA
unless otherwise noted.