(This page is about the Australian punk band. For the English instrumental band of the same name, see Saints(2)).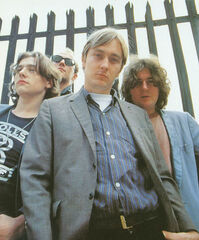 The Saints are an Australian punk rock band originating in Brisbane in 1973. The band was founded by Chris Bailey (singer-songwriter, later guitarist), Ivor Hay (drummer), and Ed Kuepper (guitarist-songwriter). Contemporaneously with American punk rock band the Ramones, the Saints were employing the fast tempos, raucous vocals and "buzz saw" guitar that characterised early punk rock. With their debut single, "(I'm) Stranded", in September 1976, they became the first "punk" band outside the US to release a record, ahead of better-known acts including the Sex Pistols and the Clash. They are one of the first and most influential groups of the genre.
Alongside mainstay Bailey, the group has also had numerous line-ups - in early 1979, Ivor Hay and Ed Kuepper left, while Bailey continued the band, with a changing line-up. All Fools Day peaked in the Top 30 on the Australian Kent Music Report Albums Chart in April 1986. Bailey also has a solo career and had relocated to Sweden by 1994. The band was inducted into the Australian Recording Industry Association (ARIA) Hall of Fame in 2001.
The Saints continue to record and perform. In 2014 Bruce Springsteen covered their song "Just Like Fire Would" on his High Hopes album.
Links to Peel
Peel first heard the band's "I'm Stranded" in 1976 and played the track on his punk special show on 10 December 1976, where he described it as his Peel's Big 45:
"This is Peel's Big 45, and it fits neatly into the programme. From Australia, these are the Saints, and I think one of the best singles of the year, there. It's called (I'm) Stranded"
In 1977, he nominated the track at number 35 in his own 1977 Festive Fifty, where he choose his favourites of the year. Peel continued playing the band's material in the late 70's, but lost interest in their new material by the mid 80's, although close colleague Andy Kershaw played their 1986 track "Just Like Fire Would" on Peel's show on 05 November 1986, whilst sitting in for his colleague who was away in Japan.
Peel's favourites the Fall recorded a cover version of the Saints' "This Perfect Day" for their 22nd session in the autumn of 1998. A version of the song was included on the group's album "The Marshall Suite" the following year, attracting a couple of plays on the Peel show in April / May 1999.
Festive Fifty Entries
Shows Played
1977
1978
1980
1983
23 March 1983: Follow The Leader (album - Out In The Jungle) Flicknife
1986
1988
1989
1997
1998
2001
External Links
Community content is available under
CC-BY-SA
unless otherwise noted.