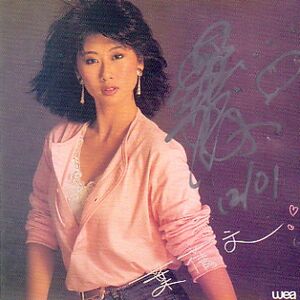 Sally Yeh
(born September 30, 1961), sometimes written as Sally Yip or Yip Sin-Man, is a Cantopop singer and actress. Yeh was born in Taipei, Taiwan and immigrated to Canada at a young age with her family, growing up in Victoria, British Columbia. Yeh's singing career started in the early 1980s and gradually became well known in the Chinese pop genre expanding in three decades with a total of thirty albums, plus forty-odd compilations and live recordings. Yeh speaks Cantonese, Mandarin, and English. Her jazz-trained vocals allow her to handle a wide range of musical genres. Apart from her original material, Sally Yeh has, through the years, covered a number of Western songs, ranging from Madonna to Céline Dion.
Links To Peel
In late 1986, Peel managed to get a hold of Chinese cover version records after visiting the BFBS at HMS Tamar in Hong Kong. One of the records included Sally Yeh, who did a cover of Madonna's Material Girl called 200 Degrees, which Peel often played. The Chinese lyrics of 200 Degrees were slightly different from Madonna's version, which had the Chinese translation of:
"I get the itches when the temperature rises / The weather situation gets worse and worse / And my body explodes at 200 degrees."
Sally Yeh is married to George Lam, a singer and actor, who Peel played some tracks of in the 80's and 90's.
Shows Played
1986
25 November 1986: 200 Degrees (200度) (LP - My Love Goodnight (長夜) WEA
06 December 1986 (BFBS) (Peel 046 (BFBS)):  200度 (200 Degrees) (LP-長夜 (My Love Goodnight) WEA (JP: 'What an awe-inspiring record that is!...Now that I've sort of got the contacts there, I shall be able to get records like that on a fairly regular basis. If there are regular cover versions of things in Cantonese, or indeed in any other language, I shall be the man to play them, for sure. My idea of a good time, definitely.')
18 December 1986 (Andy Kershaw): 200 Degrees (200度) (LP - My Love Goodnight (長夜) WEA
1988
14 May 1988 (BFBS): 200 Degrees (200度) (LP - My Love Goodnight (長夜) WEA (Cantonese cover of Madonna's Material Girl)
1991
External Links
Community content is available under
CC-BY-SA
unless otherwise noted.