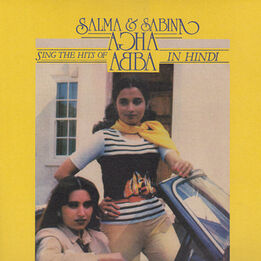 Salma & Sabina were Salma and Sabina Agha, both Pakistani sisters born in the 60's, who were brought to the UK by their parents during their youth and later settled back in Pakistan.  During their time in the UK the sisters produced and sang an album of ABBA covers in the Hindi language called "Agha: Sing The Hits of ABBA in Hindi". This was their only collaboration musically and later on life, Salma became an actress in some Pakistani and Indian films, whereas Sabina avoided the limelight and went into obscurity.
Links to Peel
Peel discovered their album in 1987 and revealed on his 03 November 1987 show that he received it in the afternoon in John Walters office. The album was originally released in 1981 and was quite rare with not many copies released. "My copy never leaves the house" he claimed on 17 July 2003. Peel played many of the songs from the album on his show, although interestingly he never played any of the original ABBA songs.
Shows Played
The list below is compiled from the database of this site and is therefore incomplete. Please add further information if known.
1987
1988
1993
2001
2003
Other
External Links