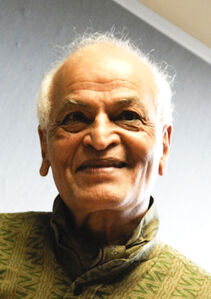 Satish Kumar (born 9 August 1936) is an Indian activist and editor. He has been a Jain monk, nuclear disarmament advocate, pacifist, and is the current editor of Resurgence & Ecologist magazine. Now living in England, Kumar is founder and Director of Programmes of the Schumacher College international centre for ecological studies, and of The Small School. His most notable accomplishment is a peace walk with a companion in the early 60's to the capitals of four of the nuclear-armed countries – Washington, London, Paris and Moscow, a trip of over 8,000 miles. He insists that reverence for nature should be at the heart of every political and social debate.
Links to Peel
In 1969, travelling to England, Satish co-founded The London School of Non Violence in tribute to the centenary of Mahatma Gandhi's birth, where he and others lectured and provided practical training centred on the theory of Satyagraha (non-violent resistance). During that time, he was invited by Peel to talk about the school and the theory of non-violent resistance on his show.[1] Both him and Peel were supporters of the hippie movement and against wars that were taking place in Vietnam at that time.
External Links
References
↑ According to Ken Garner's Peel Sessions book, it was broadcast on 16 April 1969. However, Ken Garner or the PasB at the BBC Written Archives Centre mistakenly spelt Kumar's first name as Sadish, rather than Satish.