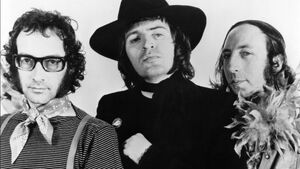 The Scaffold were a comedy, poetry and music trio from Liverpool, England, consisting of Mike McGear (real name Peter Michael McCartney, the brother of Paul McCartney), Roger McGough and John Gorman. The Scaffold performed a mixture of comic songs, comedy sketches and the poetry of McGough, as evidenced on their 1968 live album, and released a number of singles and albums on Parlophone and EMI between 1966 and 1971, with several more on Island, Warner Bros. and Bronze thereafter. The group also wrote and sang the theme tune to the BBC comedy 'The Liver Birds' which aired from 1969–1978.
[...] After the 1974 success of "Liverpool Lou," recorded with Paul McCartney and Wings, The Scaffold reunited for their final album, Sold Out, on Warner Bros. Records.....The Scaffold moved to the Bronze Records label in 1976, and continued touring through 1977. After that the group disbanded, although there have been occasional reunion performances. (Read more at Wikipedia)
Links to Peel
John Peel would have taken an interest in the Scaffold because of their Liverpool background, but by the time he arrived back in Britain they were already an established act , having performed at the Edinburgh Festival Fringe and released two unsuccessful singles in 1966. They soon began to appear on a variety of TV programmes, from light entertainment shows to late-night satirical programmes like At The Eleventh Hour. After their hit singles, "Thank U Very Much" and "Lily The Pink" they became TV regulars, having their own series in 1970-71 and doing numerous guest spots on other shows.
They did a Peel session in April 1968, but the part of their repertoire he found most attractive was the poetry of Roger McGough, which he had already featured on the Perfumed Garden on tracks from the Incredible New Liverpool Scene LP, made by McGough, fellow poet Adrian Henri and guitarist Andy Roberts. In his International Times column in late 1967, he mentioned being moved by McGough performing his poem "Summer With Monica" with Roberts' accompaniment when he had visited the Liverpool Scene's "home" at 64 Canning Street in the city.[1] In the following year, McGough appeared as a guest poet on Night Ride, and he and McGear collaborated on an eponymous album, which featured guest appearances by the likes of Jimi Hendrix, Paul McCartney and John Mayall. But because Scaffold geared much of their material to the demands of TV light entertainment, Peel paid less attention to them than to the Liverpool Scene, the band which included Henri and Roberts and whose blend of poetry and music was more to his taste.
In the 1970s, former members of the Liverpool Scene and Scaffold were among the members of Grimms, another band which combined poetry, comedy and music. During this period, Peel struck up a friendship with former Scaffold member John Gorman. Gorman, known by a later generation for his regular appearances on ITV's Saturday morning children's show Tiswas, shared Peel's love of Liverpool FC and accompanied the DJ to the 1981 European Cup final in Paris. He was also a guest when Peel was the subject of This Is Your Life.[2]
Roger McGough has enjoyed a long and successful career as a poet and broadcaster, and as of 2016 is still presenting the BBC Radio 4 series Poetry Please. But he did not feature in Peel's shows after the early 1970s, when he made a brief appearance in the DJ's studio (see below) and it is not known if he and Peel had any further contact. However, McGough did host a Home Truths tribute programme to John on 30 Oct. 2004.
Festive Fifty Entries
Sessions
One session. Roger McGough is also listed by Ken Garner as a guest on the Night Rides of 20 March 1968 and 18 December 1968, presumably reading his own poetry (Peel Sessions, pg210).
1. Recorded: 1968-03-05. First broadcast: 10 March 1968. Repeated: 21 April 1968
Yellow Book / Do You Remember / Carry On Know / Please Don't Run Too Fast
Other Shows Played
Roger McGough
Mike McGear
John Gorman
05 May 1980 (with other Tiswas presenters): Four Bucketeers: The Bucket Of Water Song (7") CBS
07 April 1981: (Peel recalls a charity gig for an unspecified good cause at the weekend in Eye in Suffolk, with John Gorman and Neil Innes. It wasn't a happy experience: "The gig was not a great success, it must be said... nobody seemed to notice that I'd come on and started playing records or even more so noticed when I actually left at the end of it, not even the people who were organising it noticed when I left. I tiptoed off into the night, quite glad to be away and also rather the worst for wear I'm afraid because I had drunk rather a lot in the course of the evening.")
28 May 1981: (Peel recalls trip to Paris with Gorman to see Liverpool win the European Cup)
See Also
External Links
References
↑ For more on their trip to Paris, see Margrave Of The Marshes (hardback edition), p50-51. Gorman also ended up living near Peel, in Woolpit, Suffolk.[2]
Community content is available under
CC-BY-SA
unless otherwise noted.